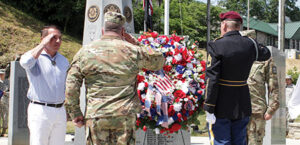 This year, our Cherokee community will celebrate Memorial Day at the Veterans Memorial Park near the Council House on Monday, May 30 at 11 a.m..
One day a year is set aside to honor our fallen warriors on behalf of a grateful nation. The Cherokee American Legion Post 143 will conduct the ceremony and asks that you come and be with us as we remember our fallen from all wars.
Additionally, this year there will be a remembrance reading of the names to whom our Post has paid the final tribute during 2021 and 2022.
This is our duty, yes. But it comes from our hearts. It is our privilege to serve our families at times like these. When they grieve, we grieve. They also served from home awaiting the return of their loved ones. We honor them and share the pain of their loss. And, may we never, any of us, take for granted their sacrifice for the cause of our freedom.
There are those that prefer a day at the lake rather than acknowledge unfathomable loss. We are not one of those. We ask that you not be either. Be with us and show the love and respect for them that they showed for us. You will be glad that you did.
Thank you,
Lew Harding
Commander, Steve Youngdeer American Legion Post 143