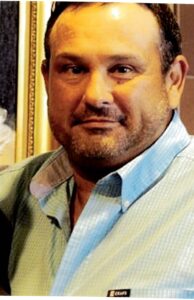 Scott Nathaniel (Rhino) Rochester, 48, of Bryson City, went home to be with the Lord Wednesday, June 12, 2019. A native of Swain County, he was the son of Sarah Eller Rochester of Bryson City and the late Carl Edward Rochester.
He was a member of the 1988 Swain High State Championship Football Team and an enrolled member of the Eastern Band of Cherokee Indians.
In addition to his father, he was preceded in death by his grandparents, James D. and Minnie B. Rochester; cousin, Denning Rochester; aunt, Carolyn Fortner; and uncle, Jim Rochester.
In addition to his mother, he is survived by his wife of 13 years, Wendy Rochester; children, Krisna Ashe (Rochester) and Matthew Rochester; brother, Chuck Rochester; cousin, Greg Fortner who was like a brother; aunt, Gwendolyn Garrison; and many other aunts, uncles and cousins.
Funeral services were held Saturday, June 15 in the chapel of Crisp Funeral Home. Burial will be in the Rochester Family Cemetery.