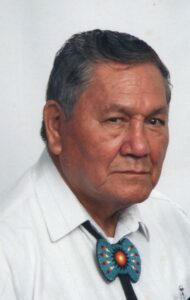 James Leonard (Blue Jay) Sequoyah Sr., 83, a lifelong resident of the Yellowhill Community, was called home to be with our Lord on June 8, 2019 and to join his beloved wife, Alice, of 54 years. Bluejay had battled a long illness and was in his home when God called him.  He received faithful, loving care from Christine, who was always there to assist Dad with his daily routines.
Blue Jay was a graduate of Cherokee High School and married Alice Maney Sequoyah.  Blue served in the U.S. Navy in the early years of their marriage. They raised strong sons and daughters in a Christian home.  Blue began his ministry serving Christ for several years at Waterfalls Baptist Church, and Alice served as the treasurer and Children's Sunday School teacher.
He was the machinist at the Vassar plant for many years, and he later worked at the Occonaluftee Indian Village for several years as the Square Grounds guide and educator.  He then joined the Great Smoky Mountains National Park Service in the Facility Management Department until he retired to care for Alice when she became ill.
Blue Jay was the son of Ammons Sequoyah Sr. and Kina Ledford Sequoyah. He was preceded in death by his parents; wife, Alice Maney Sequoyah; sisters, Sarah Bielo, Jessie Sequoyah, Harriett Wilnoty James; brother, Sonny (Ammons Jr.) Sequoyah; son, Gary Len Sequoyah; and grandsons, Brent Edward Sequoyah and Chester Ray Sequoyah.
He was raised in the Yellowhill Community and was a member of his home church, Yellowhill Baptist Church. Blue Jay also fellowshipped with many Churches and visited wherever the Lord called him to go, including many, many visits with our people in hospitals all over the area.
He is survived by sisters, Elnora Bird, Lou Bowman and Ina (Missy) Sequoyah of Cherokee and Lucille (Willie) Owens of Robbinsville; brothers, Richard and Irvin Sequoyah; sister-in law, Charlotte W. Maney of Cherokee and brother-in-law Bobby Dean Bradley of Maggie Valley; daughters, Vickie (David) McCoy, Christine (Jim) Korinek, and sons James Jr. (Donna) Sequoyah, and Gene Sequoyah all of Cherokee. "Grandpa" is also survived by grandchildren, Sasha McCoy Watty, Skooter and Taz McCoy, Tashina, Yona and Redbird Sequoyah, Jeremy, Joshua Jay, and Stephanie Sequoyah all of Cherokee; and Cecilia and Emanuel Sequoyah of Robbinsville.  Also surviving are 18 great-grandchildren and many nieces and nephews.
Funeral services were held on Wednesday, June 12 at Yellowhill Baptist Church.  VFW services immediately followed at the Cherokee Veteran's Memorial Park. Interment was in the Sequoyah Family Cemetery.
Pallbearers are grandsons and family members including: Skooter and Taz McCoy, Jeremy and Joshua Jay Sequoyah, Yona Sequoyah and Stephan Watty.  Honorary Pallbearers: Spencer and Garrett McCoy, Emanuel Sequoyah, Batiste Pepion, Julius Pepion, Azuriah Sequoyah, Logan Sequoyah, Ezekiel and Zachariah Sequoyah.    Officiants over the funeral services were Foreman Bradley of Cherokee and Noah Crowe of Robbinsville.