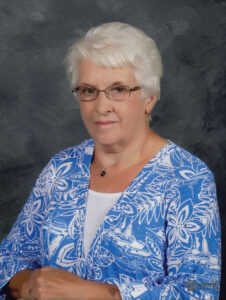 Martha JoAnn Marr Smith, 77, of the Shephard's Creek Community, took her heavenly flight to be in the presence of her Lord and Savior, Friday, June 7, 2019 after a courageous year's long battle with lung cancer. She was born July 16, 1941 to the late Coburn and Etta Mae Marr of the Brush Creek Community.
She married the love of her life and best friend, John A Smith with 52 years of marriage. They have two daughters, Lisa Waldroup and husband Jeff, and Malanie Cooper and husband, Terry all of Bryson City. JoAnn was otherwise known as "Granny Jo" to her three grand-boys Matthew and wife Kayla, Jacob and Jesse Waldroup. She also had a dog, Lucy, and grand-dogs, Sammy and Simon. Granny Jo was the master teacher of badminton, croquet, whiffle ball and checkers. Her grand-boys were the apple of her eye.
She was a retired hairdresser of over 50 years where she met and made many wonderful friends. JoAnn loved her God, family, church, and friends. She spent much of her retired time gardening, feeding her birds and reading.
She is also survived by her sisters, Faye Patton and husband Edwin and Judy Maney and husband Jim as well as many nieces and nephews.
Special thanks to her sisters, Faye and Judy, Four Seasons Hospice Care, WNC Cancer Center, Dr. Tammy Johnston and Wendy, Cindy Smith, friends, neighbors and church families who came to visit, prayed, called, and brought food over the last few weeks.
Funeral services will be held Monday, June 10 at Deep Creek Baptist Church. Pallbearers will be Matthew Waldroup, Jacob Waldroup, Jesse Waldroup, David Rowland, Rick Cutshaw, and Bill Hampton. Pastor Mike Cogdill and Earl Holden will officiate. Burial will be at the Truett Cemetery.