By SABRINA ARCH
"Sovereign Entrepreneurs, Cherokee Small-Business Owners and the Making of Economic Sovereignty", written by Courtney Lewis, is a must read for anyone that has a business or is looking to start one on tribal property.  "Sovereign Entrepreneurs"' focus is on the Eastern Band of Cherokee Indians (EBCI) small businesses and the vital role they play both culturally and politically.
The time frame captures a moment in time from 2009-10.  Lewis's fieldwork took over 14 months and occurred just after the initial economic crash of 2008.  Typical problems for small businesses are physical space to operate with an affordable lease; owners draw, easy to find customers, lending for start-up capital or business expansion, and cumbersome hurdles of Tribal Law.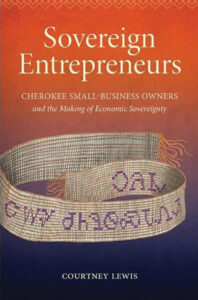 Lewis takes the recent economic work done in American Indian studies and expands on them, capturing the impact of the great depression, the weathering of economic shocks, and the practice of economic sovereignty.  "Sovereign Entrepreneurs" addresses America's view of Native American Indians as a "dying breed" and a vanishing people – this is something called settler-colonial society – which makes us invisible in their view.  Americans or non-native people see us as vanishing.  It is imperative for more Natives to share their stories, experiences, and represent Indian Country.
In chapter one, under the section titled The Absent Indigenous Entrepreneurs, it states, "Throughout history, American Indians have been practicing what has been termed entrepreneurialism."
Even before contact, Native Americans had established trading routes, and after contact, were the driving force in business trade and supply and demand.  Being an entrepreneur for Native Americans is a way of life that is traditionally and culturally driven.  Note that due to the settler-colonial mindset that indigenous entrepreneurialism is under-acknowledged.
Also, in chapter one, under Family Business Ownership, it shows how integrated Natives are and how family involvement plays a central role for Native American EBCI small business owners.  On the Qualla Boundary, culture and capital go hand-in-hand with the everchanging commerce as Native Americans work internally with one another and surrounding areas using knowledge gained through experience by working with external factors.  Later in chapter three, titled Bounding American Indian Businesses, it again touches on the intricacy of how family businesses can influence the next generation of small businesses.  The boundaries that are in place in Indian Country, play a fundamental role in who can inherit, hold a lease, or sell property.
In an interview with then-Principal Chief Michell Hicks, he commented regarding the land and cultural representational issues, "We don't have the land base to compete with the people over the mountain.  Arts and crafts, that's where the Tribe needs to go.  We have got to create a specific market.  We have to display, in the right way, our abilities."
Cherokee is unique in the fact that this destination can market what many tourist traps cannot; people are drawn to the history and want to experience it for themselves.  Cherokee can capitalize on culture and distinctive qualities of what make us Native American, by showcase our native language and authentic arts and crafts.
At the end of chapter four titled Pillars of Sovereignty, Lewis states in the last paragraph that, "The role of economic stability in these nation-building efforts is vital as Native Nations focus on expanding their practices of sovereignty, reducing their reliance on outside forces, and assuming greater control over their national territories and assets.  Small businesses and entrepreneurship practices not only support these qualities of nation-building but also contribute in a variety of ways to their communities while strengthening Native Nation economic enterprises, even through recessionary periods."
In the last chapter of this book, titled Government Support for Indianpreneurs, a few small businesses share their stories of what they have had to overcome when dealing with hiring and training employees, seeking personal training and gaining experience through networking and furthering their education.
They also shared tips and resources available for someone thinking about starting or expanding a business and how to overcome some the hurdles businesses face.  A few that I would like to share are:
The context of "Sovereign Entrepreneurs" covers and takes a deep dive into Cherokee culture and bridges it with our history to provide all Native Nations with a sense of self-awareness and to empower native communities.  We have the power to fortify our foundational practices of both economic and political sovereignty to enrich future generations of our tribe.  Whether you like to read or not, I recommend taking the time to check out this page turner that is methodically thought out and researched.  To learn more about Courtney Lewis, visit https://drcourtneylewis.com/ .
Arch is the director of EBCI Enterprise Development and Cherokee Bottled Water.