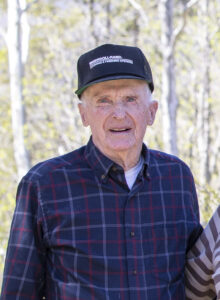 Carl Johnson Nations, 91, of the Ela Community, passed on May 30, 2019.  Carl was a lifelong resident of the Whittier Community, a veteran of the U.S. Army, and the owner of Nations Well Drilling and Pump Services for over 40 years before retiring.  He was an avid beekeeper for many years, sharing honey with friends, family and neighbors throughout the years.
Carl was the son of Candler Vester Nations and Mary Love Parris Nations.  He was preceded in death by his parents; wife, Helen McCoy Nations; brother, Earl Lewis Nations; and grandson, Jeremy Lee Nations.
Carl is survived by sister, Mildred Hester Nations; son, Candler (Elnora) Nations, son Perry (June) Nations, and daughter Brenda (Allan) Nations Oocumma; grandchildren, Lisa (Aaron) Nations Birchfield, Kristy (Tince Cabe) Nations and Kevin Nations; great grandchildren, Christian Birchfield, Caleb Birchfield, Grace Cabe and Kaylee Love Nations; many nieces and nephews, cousins, friends and faithful companion Zoe.
Services will be held Sunday, June 2 at 2 p.m. in the Chapel of Crisp Funeral Home with burial to follow in the Nations Family Cemetery.  Visitation will be held on Sunday from 12:30 p.m. until 2 p.m.
In lieu of flowers, donations may be made to St. Jude Children's Hospital.