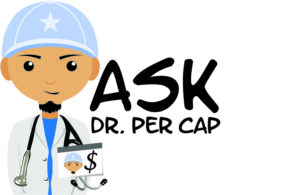 Dear Dr. Per Cap: I have been shopping a lot lately and have run up all of my credit cards. I love to shop but I can't afford all these bills. What should I do? ~ Signed, Shopaholic
Dear Shopaholic:
Ask yourself this question: Do you control your money or does it control you?  There are a lot of reasons why people shop. Feeling down? How about some retail therapy, as they call it – shop 'till ya drop. You might feel better for a while, but the party's over when you get that credit card bill. And then all of a sudden your money is controlling you – you are working overtime just to pay your bills.
But there is a solution – think about other ways to get that shopping fix without dropping a lot of money at a store. Me, I never met a yard sale or flea market I didn't like. But there are other things you can do too.
Ever go shopping without money?  I do it all the time and it's one of the best ways I know to avoid those impulse purchases that cause people to dip into savings and add to those pesky credit card balances.
Here's how: next time you go to the mall, leave the billfold at home.  That's right – no cash, no debit cards, and definitely no credit cards.  Now shop till you drop!  Try on clothes, test out the latest electronics, take a stroll through the food court, do anything you like, just don't spend any money.  You'll probably come across a few items you think you really want and be disappointed that you don't have the money to buy them, but that's the whole point.  Just promise yourself that you'll wait at least two days before you come back and buy anything. This will give you time to think about just how important those purchases really are to you.  If after two days you find that you still want them, go ahead and make the purchases.  But on the other hand, if you discover after two days that you don't feel that strongly, hold off for another two days before asking yourself again how important they are.  Who knows? You might wind up forgetting about the stuff all together and be really glad you saved your money.  Either way, even if you do go back to the mall, you'll still avoid a few impulse purchases for those items that you realize you never truly wanted in the first place.
And that means a larger balance in your bank account, fewer charges on your credit card, and more dollars in your pocket.  What's not to love about shopping without money?
So next time you are heading out to the mall, stop and think – is there another way to pursue your love of shopping without letting your money control you?
For more information on financial wellness including free credit pulls & review, budgeting, credit coaching, and savings plans please call Hope at Sequoyah Fund, 359-5005 or email: hopehuskey@sequoyahfund.org.
Ask Dr. Per Cap is a program funded by First Nations Development Institute with assistance from the FINRA Investor Education Foundation. For more information, visit www.firstnations.org. To send a question to Dr. Per Cap, email askdrpercap@firstnations.org.