Garnel Lee Craig, 88, of Cherokee, N.C., passed away late Tuesday evening, the 24th of May, 2011 at his home in the Ela Community. He was an enrolled member of the Eastern Band of Cherokee Indians where he participated in the initial implementation of many programs, including Qualla Housing and the JTPA. He was also the first Captain of the Rescue Squad. He very much loved Cherokee and the Cherokee people.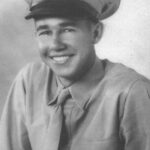 Born on February 9, 1923 in Cherokee County, N.C. he was the son of the late Wiley and Georgia Younce Craig. He was a veteran of WW II where he served as a Marine in the Pacific, participating in active combat against the Japanese forces on Saipan and Marianas Islands during 1944 and in the occupation of Kyushu, Japan in 1945. He was a member of the Grand Lodge Free and Accepted Masons of Tennessee, and a member of the local chapter of the American Legion.
     He was preceded in death by his sister, Gladys, and brother, Carl. Left to cherish his memory are his loving wife of 64 years, Joy Ann Pitner of Seymour, Tenn.; daughters, Vicki and Lea Ann; and son, Barry; six grandchildren, Ashlea, Aaron, Adam, Candice, Shanna, and Flint; sister, Kay; and his very special friend, David.
     Funeral service will be conducted on Saturday, May 28 at the Long House Funeral Home in Cherokee; visitation will be from 11 a.m. to 12 p.m. with the service immediately following. Burial will be at the Maltby Baptist Church cemetery in the Marble Community, Cherokee County around 3 p.m.
     In lieu of flowers the family asks that memorial donations be made to the Red Cross for the families of the recent tornado disasters in Arkansas and Missouri.