By SCOTT MCKIE B.P.
ONE FEATHER STAFF
"We the people of the United States, in order to form a more perfect Union…" starts the U.S. Constitution, the document that sets the framework of the federal government.   Two hundred and twenty-three years and one day after it was ratified, the document was read, in its entirety, at the Cherokee Veterans Memorial on Saturday, Sept. 18 as a celebration of Constitution Day – also known as Citizenship Day.    
"This political document is foundational to this great nation," said SFC Warren Dupree of the Steve Youngdeer American Legion Post 143, one of the event's organizers.  "The rights of freedoms guaranteed in this document are, in fact, enviable." 
Following the posting of the colors by the Post 143 Color Guard, Marie Junaluska, Cherokee Language Interpreter for Tribal Council, read the 20th Amendment in the Cherokee language. 
"It's good to see you at this national reading event," she said.  "I feel very honored to read the 20th Amendment in my language." 
Lew Harding, Post 143 Commander, said the Constitution is one of the most prolific and enduring political documents in the history of the world.  "Pay if forward to future generations so they may appreciate why we are here today."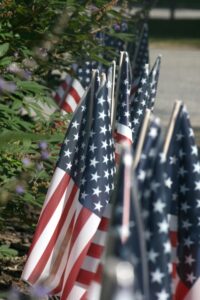 SFC Dupree started the reading of the Constitution and encouraged others to come to the podium and read.  "This is a day for you to step forward and read a paragraph.  We need you to express your belief." 
He related that the federal holiday now known as Constitution Day had its origins in the 1940s as "I Am An American Day".  It was officially designated as Constitution Day by Congress in 2004 and is celebrated each Sept. 17.
For a photo gallery of this event:
https://www.theonefeather.com/photo-galleries-2/?album=75&gallery=83