By SCOTT MCKIE B.P.
ONE FEATHER STAFF
Two three-dimensional designs have been put forth for the new, state-of-the-art Cherokee skate park which is set to be built on a 3.5 acre tract just up the road from the existing facility in the Yellowhill Community.  The park is set to be around 12,000 square feet.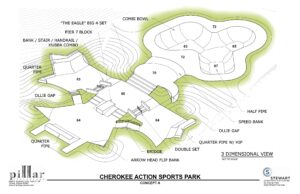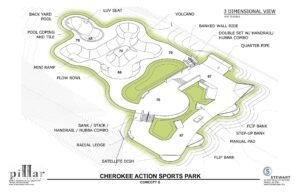 At the request of Principal Chief Michell Hicks, Tribal Council approved up to $600,000 in funding for the project which is scheduled for a late spring 2011 opening.
Now, the EBCI Planning and Economic Development office and the design firm, Pillar Design Studios, are encouraging local skaters to post their comments on the two designs to a blog. 
According to the Planning office, to log onto the blog:
Click the service tab at the top of the page
Log in with: Cherokee
Password: skatepark
"The project has flowed very well to date, largely due to commitment at all levels," said Jason Lambert, EBCI Planning and Economic Development manager, "Once passed unanimously by Tribal Council, our staff assigned to the project meshed well with the expertise of the design team.  We are confident that this working relationship will continue to produce the desired results for the community." 
The comment period on design is set to end on Friday, Sept. 17 with the present design options scheduled to be presented to the EBCI Planning Board on Monday, Sept. 20.  The site work is scheduled to start in the middle of October and structures and concrete will be formed starting February 1, 2011. 
Brad Siedlecki, of Pillar Skate Park Design Studios, has been a skater since his pre-teens and has designed skateparks all over the United States and is now developing one in the Phillipines.  He met with a group of local skaters in Cherokee in June to get some of the design elements they wished to see in a park and incorporated those ideas into his two design concepts. 
In June, he related, "We want to do our best to give you what you want.  We like to take something you see in every skate park and change it up to make it unique.  We really want to make this park unique to your community."