Submitted by New Kituwah Academy
In 2004, the first Cherokee language immersion classroom opened at Dora Reed with babies around six months of age. The following year, an additional room was opened and in subsequent years more. In 2009, the first cohort were kindergarten students and moved into the new facility, Atse Kituwah Tsunadeloquasdi "New Kituwah Academy" on Sept. 28, 2009.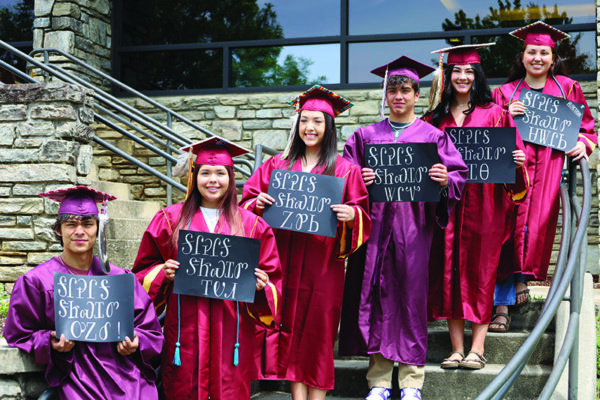 The first cohort graduated fifth grade at Atse Kituwah and, that same year, a resolution was passed to expand the program.  Five of the six students completed the sixth grade the following year.  Today, those students are seniors at their respective high schools.
Like many schools across the state, seniors were invited to their elementary school to don their cap and gown and walk the halls.  The alumni asked administration if they could do their senior walk at Atse Kituwah, as that was their first school.  This year, Atse Kituwah held its first senior walk for alumni.   It was a joyous ceremony for the alumni and their former teachers, staff, and administrators.  Through tears and smiles staff spoke of their first memories of their former students, who are no longer babies but forever family.
"Congratulations to the first cohort of New Kituwah Academy.  We wish you well and look forward to your return.  You will always be a part of our family." – ᏏᏓᏁᎳ – (sidanela).
New Kituwah Academy is part of the Kituwah Preservation & Education Program of the Eastern Band of Cherokee Indians. The program offers: early childhood education, elementary education, curriculum development, Cherokee speaker services, public events, consultation, presentations, adult language education, and more. Visit their website at https://ebci-kpep.com or follow them on Facebook:  Kituwah Preservation & Education Program.