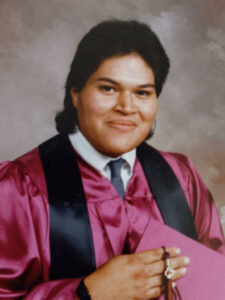 Wayne Lamar "Babe" Wolfe, age 53, of the Painttown Community, passed away on Sunday, May 8, 2022, after a brief illness. He was preceded in death by his father, Van Wolfe; and his son, Wayne "Rusty" Wolfe.
He is survived by his mother, Jan Walkingstick-Mehaffey (Bud); wife of 35 years, Martha Wolfe; two sons, Trent "Diggy" Wolfe and Brandon Wolfe; and one grandson, Tyree Tohigwo Wolfe of Lewisville.
Wayne was an avid bowler and nothing made him prouder than watching his sons bowl. He loved the Boston Red Sox and the Pittsburg Steelers.
A formal funeral service was held in the chapel of Long House Funeral Home on Tuesday, May 10 with Arron Langston officiating. Burial was in the Reed Family Cemetery. Pallbearers were among family and friends. In lieu of flowers, please donate in his name to the Cancer Support Group.
Long House Funeral home assisted the family with final arrangements.