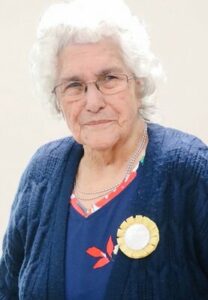 Bonnie Louise Arneach, 90, was surrounded by family on Mother's Day, May 8, 2022, as she left this world peacefully and entered her Heavenly home.
She gave a beautiful testimony and shared her love for the Lord.  She enjoyed listening to gospel music, her family sang to her and praised the Lord in her last hours.  She was a very outgoing and strong-willed woman who loved her family dearly.  She loved spending time with her children, grandchildren, and great grandchildren at family gatherings, she also enjoyed weekend rides to look at the elk with her son-in-law Michael whom she loved like a son. She loved her brothers and sisters fiercely and had a very special place in her heart for her dear buddy (nephew) James Ensley who always made her feel special and loved.
She was preceded in death by her parents, Margaret George and Nute Biddix; brothers, Jim and Sam Biddix; sister, Jessie Rathbone; great grandson, Andrew Tyler Williamson whom she loved very much; and her precious daughter-in-law, Peggy Watson Arneach.
Bonnie was also preceded in death by the love of her life and husband of 53 years, Richard "Buster" (Wilnoty) Arneach.  She has spent the last 17 years missing him and now has joined him at their mansion in Heaven.
Bonnie is survived by her children, Richard Earl Arneach Jr. (Melissa Kay), Sara Arneach Watson (Michael), and Robbie Arneach (Deb). She is also survived by five grandchildren, Libby Ensley (B), James Richard Arneach (Stacey), Angie Arneach, Christy Bell (Jody), and Brittany Mathis (Kenny); her great grandchildren, Timiyah Wachacha (Elijah), Kellen Ensley, Katelyn Leann Williamson, Kaitlyn Norman (Tanner), Vivian Bell, Bradley Bell, Autumn Arneach, and the two that kept her company everyday, Hunter and Jessie Mathis. Additionally, she is survived by her brother, John Biddix, and sisters, Julie Biddix, Rosemary Rhinehart, Helen Parker, Ann Reid, and Ruby Melton.
A visitation will be held from 11 a.m. to 12 p.m. on Thursday, May 12 at Yellowhill Baptist Church with the funeral service starting at 12 p.m.  Brother Foreman Bradley will officiate. Burial will follow at the Crowe Family Cemetery.
Pall bearers will be Kellen Ensley, Elijah Wachacha, James Ensley, Jody Bell, Sam Crowe, Kenny Mathis, Robert Reid, and Jamie Reid. Honorary pall bearers are Bradley Bell, Hunter Mathis, her special nephew that always made her laugh-Troy Crowe, and her self-proclaimed "favorite son in law" B Ensley.