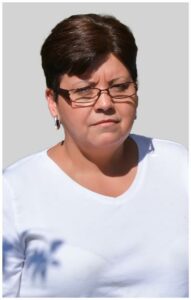 Annie Ramsey Young, 60, of Cherokee, passed away Sunday, May 8, 2022. A native and a lifelong resident of Cherokee, she was the daughter of the late Charlie and Betty Arch Ramsey.
Annie was a member of Cherokee Church of God and was head cook at Tsali Manor in Cherokee. She loved spending time with her family and friends and will be missed by all.
In addition to her parents, she was also preceded in death by her brothers, Jonathan Arch, David Long, and Clarence "Britches" Cucumber; her sister, Rita Martinez; and a nephew, Joe Martinez.
She is survived by her son, Cy (Cindi) Young, her daughter, Tansi Elaine (Travis Calhoun) Young; sons, Tricyus Calhoun and Trennan Calhoun, all of Cherokee; grandchildren, Trigger Young, Liza Young, Tyson Calhoun; sisters, Clara Sequoyah, Brenda Hernandez, Donya George; and brother, Allen Ramsey; and several nieces, nephews, and cousins also survive
Funeral Services will be held 2 p.m. Wednesday May 11 at the Cherokee Church of God with the Rev. Aaron Bridges officiating. The family will begin receiving friends Tuesday evening from 5 p.m. till 10 p.m. at the Church.