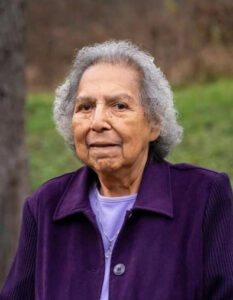 Katherine Norleen Panther, Nora as she was commonly known, age 84, passed away peacefully at her residence on Sunday, April 10, 2022 after battling cancer. She is survived by her three children, Gail P. Long, Gregory Panther, and Sarita Panther; eight grandchildren, Deino, Jamie, Delbert, Rodney, Allana, Jared, Shoni, and Jeremiah; seven great-grandchildren, Kendra, Nevayah, Kylan, Marla, McKyan, Timbi, and Draylon; one great great-grandson, Hezekiah Davis; brothers, Ernest, Rick, Jim, Pat "Big 10", and Kenny; sisters, Alma, Alice, Hattie, Loretta, Jean, Gloria, Pat, and Deb.
Nora was preceded in death by her parents, Emmaline Driver and Sam Panther; brothers, Samuel "Snake" Panther, Floyd Panther, Nicky Driver, Tommy Driver, and Charlie Davis; sisters, Wilma Pheasant, Anita Ellwood; and one granddaughter, Jalee Panther.
Nora was a member of Waterfalls Baptist Church. She was an awesome cook and seamstress.
Funeral service were held on Friday, April 15 at Big Cove Missionary Baptist Church.  Scott Chekelelee and Ernie Stiles officiated. Burial was in the Sequoyah Family Cemetery. Pallbearers were Michael "Stu" Bradley and members of the Cherokee Fire Department; Doug Swayney, Cameron McCowan, Jaron Bradley, Jeff Arneach, Benji Johnson, and Ryan Dehart.
Long House Funeral Home assisted the family with final arrangements.