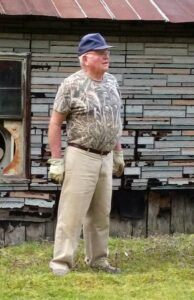 James (Red) Bradley, age 83, passed away unexpectedly at his residence on Sunday, Sept. 4, 2016.
He is survived by his wife of 61 years, Irma Ledford Bradley; his children including daughters, Margie (Steve) of Greensboro, Robyn of Cherokee; sons, Kenny (Lana) and Jimmy, of Cherokee.  Red had 10 grandchildren; 16 great-grandchildren; three great great grandchildren; one brother, Ham; and several nieces and nephews.
Red was preceded in death by his parents, Nick and Edith Bradley; brothers, John, Jarrett, Joe, Shorty, and Russ; two sisters, Betty and Sis; and one son Little B. Bradley.
Red served in the U.S. Army active duty for four years doing tours in Germany and Japan and eight years of inactive duty.  He was a member of the Qualla Arts and Crafts.  He pastored Boiling Springs Baptist, Yellowhill Baptist, and was pastor at Waterfalls Baptist Church at the time of his death.  Red worked for the Bureau of Indian affairs for 35 years.
He was loved by everyone and will be greatly missed.
Visitation will be held Wednesday, Sept. 7 from 11am – 2pm at the Macedonia Baptist Church.  Funeral services will follow at 2pm with Steve Gunter officiating.  Burial will follow at the Bradley cemetery with military honors conducted by the Steve Youngdeer American Legion Post 143.
Long House Funeral Home is assisting the Bradley family.