By SCOTT MCKIE B.P.
ONE FEATHER STAFF
The Cherokee Family Safety Program officially moved into its new digs on Tuesday, May 31 with a ribbon-cutting ceremony.  The new facility opened at 117 John Crowe Road, located just above Public Health and Human Services (PHHS) near the old EBCI Transit location in the Yellowhill Community.
Family Safety started operation on Oct. 1, 2015 and includes Foster Care and Child Welfare Services, the Safe Babies Program, the Transitional Housing Program, and an Indian Child Welfare Act Office.
"It's a fabulous day for us here in Public Health and Human Services," Vickie Bradley, Secretary Public Health and Human Services, said at the start of Tuesday's event.  "It's been a long process…we know that this is a true act of sovereignty for our nation to be able to take care of our own families."
Principal Chief Patrick Lambert commented, "There are some that say that a Tribe is not truly sovereign unless we have the desire and the ability to take care of our own, and that's exactly what we're doing here today."
Chief Lambert, an attorney, received his bachelor's degree in sociology and an associate's degree in criminal justice.  "I started out very similar to where many of you are working at, and I worked at the hospital in the drug and alcohol treatment program.  I saw firsthand some of the struggles that families go through."
He stressed the need and importance of the Tribe handling business internally.  "Oftentimes, we've been at the hands of those from the state, but now the Tribe has the ability and the power to take care of it."
Chief Lambert added, "When I was elected in the summer of last year, it was talked about at that time, are we ready for this and can we handle this?  I got interviewed right after the primary and responded that it's not a matter of can we, it's a matter of that we have to. We're going to do that the best that we can…this fits very tightly with the program that I've put forth and the things that I've talked about in my administration which is providing safe, stable and nurturing families."
Vice Chief Richard G. Sneed remarked, "Without a doubt, I don't think there's anyone more qualified or more equipped to help our families than us.  We know our communities.  We know our people.  For all of the great things that the state programs have to offer, there tends to be sort of an 'us and them' mentality."
He praised the Family Safety staff and commented, "I appreciate all that you do and all that you're going to do.  And, as the Chief said, it is really the cornerstone of our community's success that we have strong families."
Vice Chief concluded by saying, "We have an opportunity before us to strengthen families.  We have an opportunity before us to ensure that our children are cared for and protected, and we are trusting you with this great task.  It is a high calling and a great challenge, but I know that you are up to the task."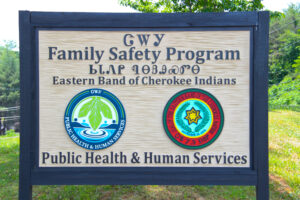 Dave Richard, North Carolina Department of Health and Human Services deputy secretary, said, "You can take care of your own best…we are excited to be a partner with you in this effort to transform."
He added, "We are looking forward to the incredible things that are going to happen in this community under the leadership of all of you."
The Eastern Band of Cherokee Indians formalized a Title IV-E plan in January with the Administration on Children, Youth and Families within the U.S. Department of Health and Human Services.  The plan gave the Family Safety Program the ability to operate Foster Care, Adoption Assistance, and Guardianship Assistance Programs.
To contact the Cherokee Family Safety Program:
Main Line: 359-1520
Dallas Pettigrew, program manager, 359-1520, dallpett@nc-cherokee.com
Safe Babies Program: Tina Saunooke, MA, HD, program manager, 359-6229, 507-0830 (cell), tinasaun@nc-cherokee.com
Transitional Housing Program: Tamara Jackson, coordinator, 359-6915, 269-8158 (cell), tamajack@nc-cherokee.com
To view or purchase photos from this event, visit: https://onefeather.smugmug.com/COMMUNITY-and-NEWS-EVENTS/2016-Community-and-News-Events/Cherokee-Family-Safety-Program/