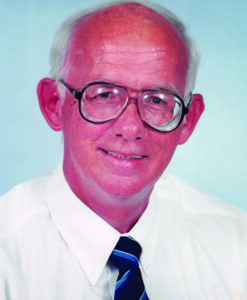 Charles Regan "Chuck" Brogan Jr., 73, of Whittier, went to be with the Lord on Tuesday, May 17 after a very courageous and long battle with cancer. He was born April 6, 1943 in Midland, Pa.
Chuck was a graduate of St. Petersburg Junior College, St. Petersburg, Fla. in psychology. He did drug counseling in St. Petersburg and led divorced, separated and widowed Catholic groups in the St. Petersburg area for several years. He worked for Sears for 13 years in Florida before moving permanently in 1979 to the Smoky Mountains that he'd loved since his teenage years. In Whittier, he co-owned with his wife Mary, the Misty Mountain Motel, Brer Rabbit Nursery School, and had the franchise for Lincoln Log Homes. In 1984, he went to work for Eckerd Drugs for 13 years. Chuck finished out his work career from 1997-08 retiring from Harrah's Cherokee Casino after 11 years.
Chuck was a family man who loved all his children, loved traveling, and fixing anything broken. In recent years, he loved his Bible Studies at Our Lady of Guadalupe Catholic Church.
He is survived by his wife, Mary Brogan; his children, Therese Tubbs (Glenn), Suzy O'Connell (Bruce), Mike Brogan (Kim), Angela Stone (Edgar), Marianne Ward (Rory), Lisa Statton (Jason), and Chris Brogan (Ines); his grandchildren, Ryan, Natalie, Ellen, Hannah, Collin, Sean, Brandon, Kyndall, Tia, Samantha, Maggie, Brogan, Lillie, and Tori; one great-grandchild, Gage Ward; one brother, Terry Brogan (Peggy); two sisters, Patty Gaston (Gary) and Peggy Roberts (Bob); and one sister-in-law, Betty O'Neil, sister of Mary.
He was preceded in death by his father, Charles Brogan Sr. and his mother, Mabel Brogan.
The honorary pallbearers are his sons-in-law Glenn Habib, Bruce O'Connell, Edgar Stone, Rory Ward, and Jason Statton.
Memorial may be made to St. Jude's Children's Hospital or to your favorite charity