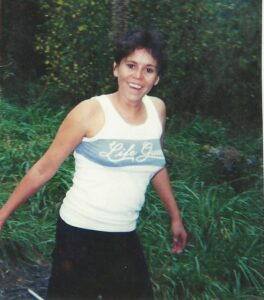 Beth Charlene Cabe, 49, of Whittier passed away Sunday, May 8, 2016 at Mission Hospital in Asheville.
Beth was born Dec. 13, 1966 in Cherokee to Betty George and the late Robert D. Cabe.  She was of the Baptist faith.
She is survived by her mother, Betty George; three daughters, Natasha Swayney, Samantha Gunter, and Sierra Gunter; three grandchildren, Julian Martin, Jordyn Martin, Brandon Martin Jr., and Javian Martin; one brother, Rick Cabe; and her favorite little dog named Sissie.
In addition to her father, Beth was preceded in death by one brother, Robert O. Cabe.
Visitation will be held Wednesday, May 11 from 5-9pm  at Long House Funeral Home.  Funeral services will be held on Thursday, May 12 at 12noon at Long House Funeral Home with Revs. Dan Conseen and James "Bo" Parris officiating.  Burial will follow at the Manley George family cemetery.