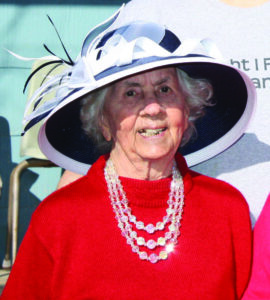 Sallie Smith Bradley, 102, passed peacefully on April 29, 2016.
She was born March 7, 1914 to the late Artie Hornbuckle Smith and Samuel Abraham Smith. Sallie was preceded in death by her husband of 54 years, Seaborn Bradley; son, David Bradley; and daughter, Lydia Marie Bradley.
She is survived by son, Marvin Thomas Bradley(Sadie); two grandchildren, Vita Nations and Tommy Bradley; two great grandchildren, Sabrina Arch (Ethan) and Davy Bradley (Talisa); four great-great grandchildren,  James "Coug" and Noah Arch,  Seaborn and Eliza Jane Bradley, all of Cherokee; and also one sister, "candy" Maness of Siler City.
Also preceding Sallie in death were brothers, Jim, Frank, Martin, and Levi Smith; sisters, Tiny Toineeta, Margaret Ratliff, Florene Fagg, and Minnie Feather; half brothers, Joe, Henry, Blaine, Goldman, Jess, John and David Smith; and half sisters, Susie Smith Brady and Belva Smith Owle.
She was a devoted wife, mother and member of the Calico Church of Jesus Christ. Sallie loved quilting, vegetable gardening, driving her car and most well known for her cooking and love of hats.
A visitation will be held Monday, May 2 from 10-11am at Cherokee United Methodist Church with funeral service at 11am.  Pastor James "Bo" Parris and Rev. John Ferree will officiate. Interment will be in the Standingwolfe Memorial Gardens by her house.
Long House Funeral Home is assisting the Bradley family