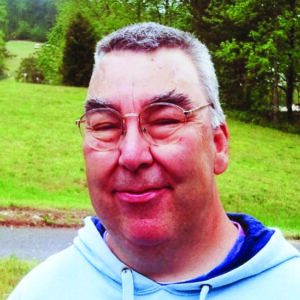 On Wednesday, April 27, 2016, heaven welcomed a very special angel.  Joseph "Joey" Russell Parker, 53, of Cherokee, passed away at Harris Regional hospital surrounded by his loving family.
Although Mr. Parker was a jack of all trades, he will always be the one and only Mayor of River Valley Campground.  Joey was a member of Cherokee Baptist Church and will be greatly missed by the congregation.
Joey is survived by his sisters, Myra Parker Cloer (husband Mike) and Kym M. Parker (Becky); his very special babygirl, niece Kristina Cloer; all of his favorite cousins, aunts and uncles. Joey also leaves behind many, many friends.
Joey is preceded in death by his parents, Jerome Parker and Dyxye S. Parker.
A funeral service was held on Saturday, April 30 at River Valley Campground.  Burial was at the Parker Cemetery located on Becks Branch.  Pastor Percy Cunningham officiated, and the Cherokee Enterprises, Inc. employees acted as pallbearers.
In lieu of flowers, the family request donations to be made Qualla Boundary Special olympics c/o Brandon Elders, 1679 Blanton Branch Rd, Sylva NC, 28789.
Long House Funeral Home assisted the family with arrangements.