By DENNIS "BILL" TAYLOR
EBCI TRIBAL COUNCIL CHAIRMAN
I traveled with members of tribal council to Washington, D.C. for the United South and Eastern Tribes (USET) Impact Week on Feb. 7-11 and to the National Congress of American Indians meetings to find common ground with other tribal leaders and advocate for priority issues of our Tribe.  I would like to thank Tribal Council members who attended these important meetings including Vice Chairman Brandon Jones, Wolfetown Rep. Bo Crowe, Birdtown Rep. Travis Smith, Cherokee Co. – Snowbird Rep. Adam Wachacha, Yellowhill Rep. Anita Lossiah, Painttown Rep. Marie Junaluska, Birdtown Rep. Albert Rose, and Big Cove Rep. Richard French. I appreciate all of their hard work on behalf of the tribe.
During the USET meeting, I joined tribal leaders from USET tribes and heard from federal officials about existing Congressional and agency initiatives and took action through resolutions on inter-tribal priorities.  Part of our work included meeting with Joe Watkins from the National Park Service to discuss gathering of ramps and other plants within the Great Smoky Mountains National Park, legislation that would place Cherokee historical sites in Tennessee back into trust status for the tribe, and opening the access road in the Park for safety of students at the Cherokee schools and for the residents of Big Cove.  During the course of the week, nine other tribal council members, Vice Chief Richard Sneed and I met with over 25 members of Congress and federal agency officials to discuss these issues.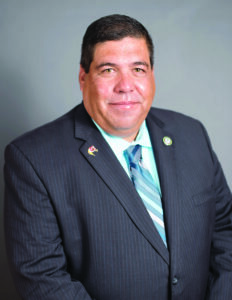 Our work on the issue of traditional tribal gathering within the national parks has resulted in a proposed rule change for the benefit of all tribal nations. There is a possibility that a new federal rule will be released in the next few months that would allow Eastern Band members to legally gather in the Park once again and would allow other tribes to negotiate with individual park service units to establish their own gathering rights .  A final rule would be a culmination of over three years of work to change federal law to clarify the legality of this practice.  Our tribe took the lead in developing this national rule to protect our rights to continue our cultural traditions of gathering food, medicine and other traditional plants.  At the request of Eastern Band leaders last week, the White House and friends in the Congress are all pressing the National Park Service to release the rule as soon as possible, and certainly before the Obama Administration ends.
During the National Congress of American Indians meeting, the House of Representatives had a hearing on the "Eastern Band Cherokee Historical Lands Reacquisition Act" on Wednesday, Feb. 24.  The Eastern Band has negotiated the terms of the bill with members of Congress, the Tennessee Valley Authority (TVA, the federal agency that currently controls the land), and the Governor and Attorney General of Tennessee.  Congressman Chuck Fleischmann, a Republican from Tennessee whose district includes the lands that would be reacquired into trust, is championing the bill, with support from a host of elected officials including Congressman Mark Meadows who represents our tribe in Congress.  The Obama administration also testified at the hearing in support of the bill. I would like to thank members of tribal council in attendance at this important hearing including: Vice Chairman Jones, Rep. French, Rep. Rose, Rep. Junaluska and Rep. Anita Lossiah.
We met with numerous legislators and staff members to explain the safety and emergency nature of reopening the access road in the Park.  For many years, Amanda Swimmer has come into Tribal Council to advocate for this road to be opened. This issue has taken many years primarily because the Superintendent position of the Great Smoky Mountains National Park has been held by a non-permanent appointee. It is my intention to work with Cassius Cash, the current superintendent to resolve this issue and re-open the access road.
All of these issues are important to our people but there are others which need constant advocacy like health care funding, taxation issues and the protection of our sovereignty. Congress needs to be educated about all our concerns and that only takes place when relationships are established. I feel this part of my job as Tribal Council Chairman is essential to protecting our Tribe and our rights.