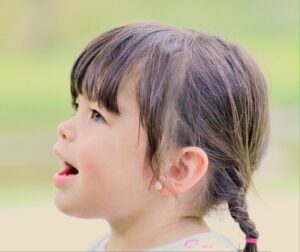 Maverick Harper Blythe Sampson, 3-years-old, of Cherokee, gained her angel wings in the arms of her mommy and daddy on Thursday, Feb. 18, 2016 at Duke University Medical Center. Maverick was born Nov. 17, 2012 and is the daughter of Jordan and Sasha Sampson.
Maverick definitely lived up to her name. She was a maverick and full of spunk and sass. She was an early talker and loved to talk about all her favorite subjects. She loved to swing in her tree swing that her PowPow made her, jump on the trampoline and rough house with her brothers and dad.  She loved to snuggle with Granny Mary and was learning the Cherokee language. Her Granny Kim called her the light of her life. Her favorites were Minnie Mouse, Hello Kitty, and her Joker doll that she carried around. She also loved her "bobby" blanket that her Granny Louisa gave her.
She attended Dora Reed Child Care Center where she was in Head Start. She had many friends in her classroom that will miss her.
Maverick is survived by her mom and dad; her brothers, Korbin Taylor Sampson, Kollin Blythe Ashton Sampson; and her sister, Hermione Greigh-Fox Blythe Sampson, all of the home.  She is also survived by her grandparents, Kimlyn Blythe Sneed Lambert of Cherokee, Mary Jumper Fortenberry of Robbinsville, and PowPow Darrell Fortenberry and wife Carla of Cherokee; aunts, Senea Fortenberry of Robbinsville and Jessica Rose Lambert of Cherokee; uncles, John Daniel Hall (Jessica), John P. Sampson (Kelly), and Dustin Sampson of Cherokee; great grandparents include John and Elaine Sneed of Rock Hill, S.C., and Joe and Alice Rose Lambert of Cherokee.  She is also survived by many cousins, great aunts and uncles and a multitude of friends she made.
She was predeceased by Granny Louisa Grindstaff, Papaw Doug Lambert, Polly Crow, John E. Sampson, and Joe Jumper.
A visitation will be held on Sunday, Feb. 21 from 5-8pm at the Long House Funeral Home. Funeral services will be held on Monday, Feb. 22 at 2pm at Long House Funeral Home. Burial will be in the Tranquility Ridge Cemetery in Birdtown.
We love you sweet angel, rest easy in Heaven until we can be with you again. We love you to the moon and back.