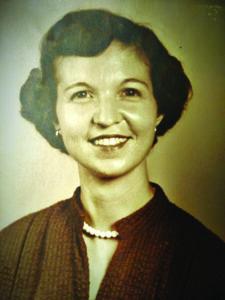 Ruth Melinda (Rogers) Garrett, 91, of Cherokee, passed away following a short stay at the Tsali Care center on Wednesday, Feb. 17, 2016.   
She was born March 24, 1924 to the late Oscar Rogers and Edna Warren Rogers.
Ruth attended Cherokee Boarding School, before attending a two year program in Accounting and Finance in Fernandina Beach, Fla.  In 1960, she moved back home to own and operate Whitetree's Gift Shop until 1981.  Family and friends were her love and joy.  During the 21 years at Whitetree's Gift Shop, Ruth made many lifelong friends.  She never met a stranger and would never let anyone be hungry, lonely, or without someone to talk to.  Ruth was happiest when hosting meals at her home, visiting, and helping people in need.  She was the greatest cook and a true friend to everyone she met.  Ruth was a member of the United Methodist Church in Cherokee.
Ruth is survived by one son, Jasper T. Garrett Jr. (JT) and his wife Phyllis; one daughter, Barbara Garrett Owle; four grandchildren, Joey Owle, Brian Owle, Michael Garrett, and Melissa Garrett; four great grandchildren, Tashina Bradley, Heather Owle, Joi Owle, and Gavin Garrett; one brother, Harold Rogers; and one sister, Elsie Rogers.  She also leaves behind a lot of caring relatives and friends.
In addition to her parents, Ruth was preceded in death by her husband, Jasper T. Garrett Sr; one daughter, Patricia Garrett Jones; two brothers, Clarence Rogers (Ting) and Charles Rogers; three sisters, Shirley Rogers Arch, Alice Louwana Rogers, and Lois Rogers Gwaltney Parish.
Family will receive friends on Thursday, Feb. 18 at the Cherokee United Methodist Church from 5-9pm.  A funeral will follow on Friday, Feb. 19 at 1pm with the Rev. John Ferree officiating.  An immediate burial will follow in the Swain Memorial Park in Bryson City where she will be placed to rest next to her husband Jasper Garrett.  Pallbearers will be among family and friends.