Toineeta wins Regionals, qualifies for State as the No. 1 Seed
By AMBLE SMOKER
ONE FEATHER STAFF
CHERRYVILLE – Cherokee's Anthony Toineeta (30-4) punched his ticket to the big show after finishing atop the podium in the 1A Western Regionals Wrestling Tournament on Saturday, Feb. 13 at Cherryville High School.  Toineeta defeated Rosman's Tanner Whitman in the championship round to advance to the NCHSAA 1A State Championship Tournament in Greensboro this weekend as the number-one seed.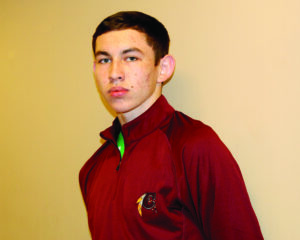 "Anthony did very well this weekend," said Cherokee Wrestling Head Coach Tavi Rivera.  "He was focused and stuck to what we've been working on all year.  He definitely deserves to go to state and compete for a title.  We still have a few things to work on, but then again, you can never be too good."
Toineeta needed less than a minute to pick up his first win in the opening round of the tournament as he pinned Starmount's Vestal Dalton at the 38-second mark of the first period.  He continued his impressive performance by pinning East Surry's Joseph Becker in the final second of the first round.  During the semi-final round, Toineeta held Avery's Kyle Knight off the scoreboard in a 5-0 decision that went the distance.  Finally, he defeated Rosman's Tanner Whitman (34-7) by a 5-3 decision to win first-place of the tournament.
Following is a round-up of Cherokee Wrestlers who competed at Saturday's Regional meet:
113: Jonah Burnhisel (13-18)
Round 1 – Ryan Patterson (Elkin) over Jonah Burnhisel (Cherokee) (Fall 0:45).  Cons. Round 1 – Luis Osorno (Mt. Airy) over Jonah Burnhisel (Cherokee) (Fall 4:06).
126: Seth Sneed (11-15)
Round 1 – Seth Sneed (Cherokee) over Joshua Pardue (Starmount) (Fall 3:41) Quarterfinal – Seth Sneed (Cherokee) over Leo DeLaCruz (East Surry) (Dec. 9-5).  Semifinal – Said Javier (Elkin) over Seth Sneed (Cherokee) (Fall 2:35).  Cons. Semi – Kolin Guffey (Robbinsville) over Seth Sneed (Cherokee) (Dec 7-4)
145: Anthony Toineeta (Cherokee) – First Place
Round 1 – Anthony Toineeta over Vestal Dalton (Fall 0:38) Quarterfinals – Anthony Toineeta (Cherokee) over Joseph Becker (East Surry) (Fall 1:59) Semifinal Anthony Toineeta (Cherokee) over Kyle Knight (Avery) (Fall 1:33) 1st Place Match – Anthony Toineeta (Cherokee) over Tanner Whitman (Rosman) (Dec 5-3)
182: Andrew Griffin (Cherokee)
Round 1 – Cameron Pack (Mt. Airy) over Andrew Griffin (Cherokee) (Fall 1:19) Cons. Round 1 – Josh Huggins (Mitchell) over Andrew Griffin (Cherokee) (Fall 0:35)
285: Dakota Ward (Cherokee)
Round 1 – Morgan East (East Surry) over Dakota Ward (Cherokee) (Fall 0:49) Cons. Round 1 – Dakota Ward (Cherokee) over Ethan Virgil (Atkins) (Fall 1:36) Cons. Round 2 – Caleb Money (Starmount) over Dakota Ward (Cherokee) (Fall 3:55)
The winners of the Regional meet in each weight class include:
106 – Levi Carpenter (South Stanley)
113 – Arlus Orr (Robbinsville)
120 – Jacob Hogue (Mt. Airy)
126 – Said Javier (Elkin)
132 – Jude Lloyd (Elkin)
138 – Ethan Orr (Rosman)
145 – Anthony Toineeta (Cherokee)
152 – Solomon Duncan (Mitchell)
160 – Dalton Beaver (Mitchell)
170 – Juan Anuario (Elkin)
182 – Jacob Matheson (Hayesville)
195 – Ryan Sheppard (Avery)
220 – Will Atkins (Mitchell)
285 – Andreas Villagomez (Rosman)