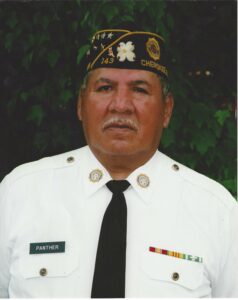 Samuel Alfred "Snake" Panther, born on April 29, 1945 went home to be with the Lord on Monday, Feb. 8, 2016.
Samuel is the son of the late Emmaline Driver and Samuel Panther Sr. both of the Cherokee Community.
In addition to his parents, he was preceded in death by three sisters, Wilma Pheasant, Anita Ellwood and Frances Welch; and three brothers, Charlie Davis, Tommy Driver and Nicky Driver.
He is survived by his wife of 17 years, Carolyn Panther; three daughters, Christina Panther with Blaine Wolfe, Frances with husband Frank Oocumma, LeeAnn Panther with Mike Oocumma; son Mark Panther; eight grandchildren, Jordan, Jorree, Jaidan, Ryanne, Jamy, Jayce, Moira and Levi; five great-grandchildren, Brooklyn, LJ, Briley, Myla and Francis Faith;  step children, sons, Dooner Driver with wife Kerra, Lopper Driver; one stepdaughter, Darlene Reed with Justin; with twelve grandchildren, Keisha, Jordan, Tiara, Laurel Reece, Blake, AJ, Caidyn, Conner, Elle, Colton, Emery; one great-grand daughter, Tye and one special grandson-Little Uton; nine sisters, Alice Kekahbah, Alma Johns, Katherine Panther, Hattie Panther, Loretta Bradley, Jean Bradley, Gloria Panther French, Patsy Panther and Deborah Panther; five brothers, Ernest Panther, Floyd Panther with wife Freida, Kenny Panther with wife Diane, Rich Panther with wife Kathy, Patrick Panther with wife Sharon and Jim Panther with Trina; several nieces and nephews all of the Cherokee Community.
A funeral service is planned for Sunday, Feb. 14 at the Big Cove Recreation Center along Big Cove Rd. starting at 2pm with Rev. Denny Crowe, Rev. James "Bo" Parris and Paster Ben Reed officiating. An immediate burial will follow near the home on Straight Fork.  Pallbearers will be among family and friends.
The family request in lieu of flowers, donations be made to Cherokee Cancer Support at PO Box 2220 Cherokee, NC with Attention Beatrice Smith for the support of Cancer Victims in the Cherokee Community.