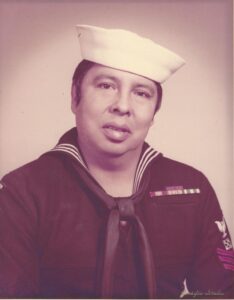 Cecil Edward Taylor, 82, of Cherokee, passed away Wednesday, Feb. 10, 2016 at Tsali Care Center in Cherokee.
He was born Jan. 18, 1934 in Cherokee to the late Will Taylor and Cecelia Standingdeer Taylor.
Cecil was a retired Navy veteran of the Vietnam War.
Cecil is survived by one brother, Mitchell Taylor; one sister, Lucy Bigmeat; and several nieces and nephews.
In addition to his parents, Cecil was preceded in death by two brothers, William H. Taylor and Gilbert Taylor; and two sisters, Wilma Junaluska and Hazel Taylor.
Visitation will be held on Saturday, Feb. 13 at Long House Funeral Home Chapel from 11am-1pm with funeral services to follow at 1pm.  Rev. James "Bo" Parris will officiate.  Burial will follow at the Taylor Family Cemetery on Standingdeer Road in Cherokee.