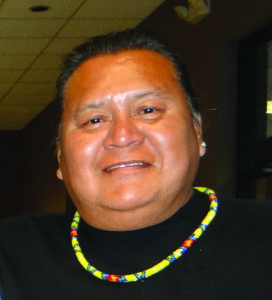 Diamond Brown Jr., 59, of Snowbird, renowned Cherokee educator, cultural leader, and former EBCI Council representative joined the creator in the early morning hours of Tuesday, Feb. 9, 2016.
Blessed with a bold charisma and unbridled optimism, Diamond blazed a unique and visionary path through life highlighted by entrepreneurial accomplishments, personal honors, and dedicated public service.  In 2000, along with his wife, Sandy, the couple founded a successful cultural education enterprise, Touch the Earth with Native People.  At its height, the family-operated business employed more than 20 full-time performers and staff, and traveled extensively throughout the United States celebrating Native American culture and heritage with programs featuring dazzling living history exhibits, authentic tribal regalia, and electrifying dance performances.  He touched tens of thousands of lives who experienced his unique blend of education and entertainment, a phenomenon he titled "Edutainment" and was a highly sought presenter for schools, universities, historical societies, museums, and state capitals.
Diamond was an innovator and early leader of a movement to restore knowledge and appreciation of traditional Cherokee culture. A member of the Deer Clan whose Cherokee name Go-Sti translates as "Sharp", he personified strength, leadership, and a warrior's spirit.  A code of honor he described first and foremost as a man's responsibility to love, protect, and provide not only for his family but also his community.
In 2009, Diamond was elected to the EBCI Tribal Council and served two terms as Snowbird/Cherokee County representative.  Working tirelessly on behalf of his Cherokee people, he brought a traditional and balanced perspective to tribal government.  The newly-opened Cherokee Indian Hospital and EBCI Justice Center, the tribal casino in Cherokee County, enrollment DNA testing, and a Snowbird HIP Housing Development are just a few successful projects he either led or supported while in office.
Diamond Brown Jr. was born March 20, 1956 in Cherokee, the first of three sons to Diamond and Frieda Brown Sr.  From an early age he displayed a natural gift for storytelling and often entertained relatives with riveting tales that earned pocket change for ice cream cones and candy bars.  Little did he know at the time but he was honing skills that would someday mesmerize eager audiences far beyond the forested hills of western North Carolina.  Later, while captain of his middle school football team he succeeded in changing the team's colors for one season from black and silver to green and yellow, so they would resemble his favorite team the Green Bay Packers.
At the age of seventeen he moved to Georgia and later, while working as a meat cutter in a grocery store, met the love of his life, Sandra Fenn.  They were married in the fall of 1981 and started a family two years later.  Proud parents to three beautiful daughters, all of whom continue his legacy of love and culture, the couple were inseparable and continued their educational efforts, environmental advocacy, and community service right up until his final months.  A devoted husband and father he worshipped his daughters often telling them "I live my life for you girls".
In addition to an engaging personality and charming disposition Diamond possessed strikingly regal physical features and a powerful stature that left an indelible impression on everyone he met.  His image and likeness were the inspiration for numerous artistic renderings including hand painted portraits, photographs, statues in Dahlonega, GA and Sawnee Nature Center, and hand carved personal quotes displayed in Hayesville.
Friends will remember him as a proud son of the Eastern Band and man of the world who found joy in an impressive collection of cruiser motorcycles, vintage pick-up trucks, and bright red corvettes.  He loved strong coffee and delicious home cooked meals, especially breakfast; disdained any kind of pessimism or negativity; gave friendly ribbings to those he liked, and enjoyed simple pleasures like coloring Easter eggs and watching classic TV shows, Andy Griffith and Bonanza.  Others will remember him as a loyal friend and brother who never backed down from a fight or denied someone in need.  One of those rare buddies you could call at 3am to help pull a car out of ditch on a deserted, icy back road.
Diamond was preceded in death by a brother, Merlyn Brown of Snowbird in 2002.
He is survived by his faithful wife of 34 years, Sandra Marlene Fenn Brown of Snowbird; daughters Brooke, Dakota, and Wahlalah Brown, all of Cherokee; granddaughters, Celeste Spruce and Winter Wildcatt, both of Cherokee; parents, Diamond Brown Sr. and Frieda Rattler Brown of Snowbird; brothers, Verlyn Brown of Snowbird and Russell Selph of Atlanta, Ga.; and countless family, friends, and relations.
Services are scheduled for Friday, Feb. 12 at 1pm at Snowbird Complex with Long House Funeral Home of Cherokee entrusted with preparations.  A traditional burial will follow at the Brown Family Cemetery.  Kituwah fire keepers, Benny Mendia and Eddie Paul, will make medicine.  DJ Robinson, James Fenn, Corey Fenn, Eli Selph, Cassidy Galaviz, and Cruz Galaviz will serve as pall bearers.  Honorary pall bearers are Eddie Chekelelee, Scott Chekelelee, Robbie Lewis, Israel Weeks, Robin Jumper, and Terry Rattler.
The family also extends its deepest appreciation to the dedicated and caring staff at Cherokee Indian Hospital; to longtime friend Ruben Teesateskie and volunteers for hosting a recent benefit dinner in Yellow Hill; to the family of the late Wayne Henderson for a precious gift of seven long glorious years; and the many relatives and friends across Indian Country who have offered love and prayers during Diamond's prolonged illness.
"Spirituality is way of life for me and my people, with these teachings I hope the people can and will understand the Native way of life here on Mother Earth" – Diamond Go-Sti