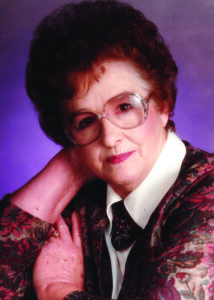 Lois Rose Ball, 84, of Cherokee, went home to be with the Lord, and all her loved ones gone on before her on Wednesday, Feb. 3, 2016.  She was surrounded by all her family who loved her dearly.
She was born March 12, 1931 in Graham County to the late William Rose and Bessie Millsaps Rose.
Lois was a wonderful loving mother, grandmother, and friend.  She had a very humble spirit that loved helping people.  She was a great cook.  She loved to read, camp, and most of all spend time with her family whom she was very proud of.
She is surived by three sons, Andy Ball and wife Sharon, Mike Ball and wife Angie, and Scott Ball and wife Wanda; one daughter, Donna Watson and husband Robbie; six grandchildren, Chris Ball, Misty Adams, Nicole Woods, Courtney Ball, Ryan Ball, and Katlin Watson; four great grandchildren, Alyssa Ball, Austin Ball, Abby Adams, and Aiden Adams; and one sister, Myrtle Ghormley.
In addition to her parents, Lois was preceded in death by her husband, Fred Ball; two brothers, Lyle Rose and Jack Rose; three sisters, Hazel Ford, Dorothy Randall, and Juanita Rose.
Visitation will be held Saturday, Feb. 6 from 1-2pm at the Long House Funeral Home Chapel with funeral services to follow at 2pm.  Rev. Jesse Adams will officiate with burial at the Drama Cemetery in Cherokee.
Long House Funeral Home is serving the Ball family.