By SCOTT MCKIE B.P.
ONE FEATHER STAFF
Bowlers in Cherokee will no longer have to leave town to go for strikes and spares.  Tribal Council passed a resolution during Budget Council on Wednesday, Feb. 3 to build a $13 million Bowling Entertainment Center on property at Harrah's Cherokee Casino Resort.
The resolution, submitted by Principal Chief Patrick Lambert, has the Eastern Band of Cherokee Indians responsible for half or roughly $6.5 million of the price tag with the TCGE (Tribal Casino Gaming Enterprise) being responsible for the other half.
"This has been a project that has been discussed for a long time," Chief Lambert said during discussion on the legislation on Wednesday.  "I think a lot of people here on Tribal Council are in support of it.  People out in the community are in support of it."
He said he has heard concerns from various tribal members who feel that the project should wait until other needs and social programs such as a drug rehabilitation center are completed.  "One thing I've realized over the past few months is that we have a lot of capable people here, and we're able to do both at the same time.  In order to fund those types of things, we also have to have income coming in so I think these two things are on separate, but parallel, tracks."
The 50,000 square foot Bowling Entertainment Center will contain two floors.  According to information from the TCGE, the first floor will cost $8,723,090 and will contain 16 bowling lanes, a food and beverage outlet, and an arcade area.  The second floor will cost $4,578,523 and will contain 8 bowling lanes, a bar and a potential food area.
Chief Lambert said putting the Bowling Center at the casino is the best plan for all.  "The resolution itself fulfills the idea of putting it to where it's most feasible to make the most money yet still have an entrance that our tribal members can go in and enjoy the facility."
On the price tag, he stated, "We've got it scheduled now to do that without any debt increase to the Tribe.  We can take that from our current reserve that we have, and it won't impact the debt load of the Tribe."
Vice Chief Rich Sneed said he has heard concerns about the price tag as well but related, "I just want to make it clear that this is a full entertainment center…it's a beautiful complex.  It's two stories.  There's a whole family-friendly area with ticket games and arcade games for the kids.  There's bowling upstairs and downstairs.  There's food and beverages so it's an entire entertainment complex.  It's not just simply a bowling alley."
He added, "It will also attract and keep people on the casino property which helps tribal gaming which is important to our per capita distribution.  The projections look really, really good on this, and the best thing is we're not borrowing any money to do it."
Adele Madden, Harrah's Cherokee Casino Resort vice president of finance, commented, "The proposal in the resolution is an equitable investment, or $6.5 million from the Tribe, and the other $6.5 million would come from a maintenance capital account (account is used so the casino can purchase new gaming machines, replace carpets, etc.).  We do have funding in there that we could utilize for the other half of the bowling project."
According to the pro forma projections from TCGE, there will be total annual revenues around $5.8 million with total expenses around $3.9 million for an operating income of $1.9 million (33.3 percent positive margin).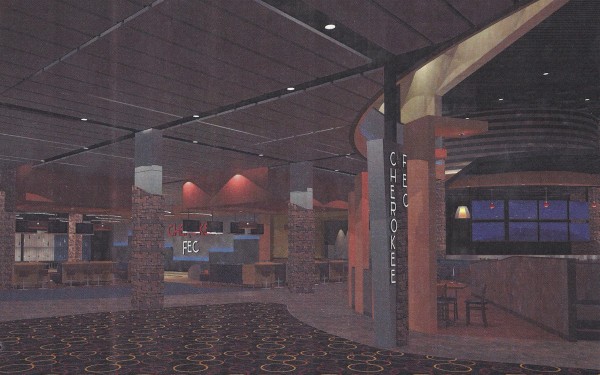 Tribal Council Chairman Bill Taylor noted, "I've always supported this project too, from the get-go."
He noted that some tribal members have questioned whether per capita would be negatively affected by the TCGE's involvement in the project.  "It will not affect enrolled members in any way.  I think it will be an asset to the property…I think it's a good thing."
Chief Lambert also added, "It's not going to have a negative impact.  In fact, it's going to have a positive impact."
Several tribal members spoke on Wednesday and voiced their support for the project.
Janell Rattler is the Tribe's Senior Games coordinator and spoke on Wednesday with the support of elders in that program.  "This is a passion of theirs, and bowling is the biggest event that they love to participate in for Senior Games."
Currently, elders in the program have to travel to Jackson and Macon counties for bowling practice and tournaments.  "This is where they want to be, closer to home," said Rattler, "and, they wanted it big enough for leagues and some of our events to be held there.  Hopefully, we can host a lot of these events instead of them traveling to Macon County."
She ended by saying, "They are in support of this, and they are grateful that the Chief has brought it back."
Peggy Hill, an EBCI tribal elder of the Yellowhill Community, said, "I'm totally in support of this and have been.  It's (bowling) is a real outlet for those of us that are older.  It's not very strenuous, and it's very social."
The location appeals to Hill as well and she thinks new opportunities for youth leagues could open up as well as for elders.  "I'm happy that it's here too.  When I look at the community and what we have for our youth, we don't have very much."
Jody Taylor, an EBCI tribal elder of the Birdtown Community, also voiced her support for the project.  "This bowling alley, I think we really need it.  We have to travel to Franklin, and to me, that's totally unnecessary when we could have one right here.  I think this is a really good thing for the elders."
Information from TCGE states that construction time will be from 12-18 months.
During the vote on the resolution, Wolfetown Rep. Bo Crowe and Yellowhill Rep. Anita Lossiah were the two dissenting votes.  Cherokee County – Snowbird Rep. Adam Wachacha abstained and Vice Chairman Brandon Jones and Big Cove Rep. Teresa McCoy were absent.