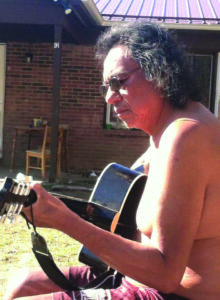 Elisha Ray Taylor, 57, of Cherokee, passed away Saturday, Jan. 30, 2016 at the Cherokee Indian Hospital.

He was born Dec. 21, 1958 in Cherokee to the late John B. Taylor and Mary Bigwitch Taylor.

Elisha was a great son, grandfather, brother, loving father, and uncle to all of the nephews and nieces.  He was loved by all and will be missed by all.  He was a fluent speaker, enjoyed playing his guitar, and was a great spiritual advisor.  He loved being in the mountains gathering wild greens and exploring and teaching the younger generation to do the same.

Elisha is survived by his daughter, Rachel Taylor; three grandchildren, Dezmond, Xavier, and Jaden Shelton; brother, Ricky Joe Taylor; adopted brother, George Pollcat of Stillwell, Okla.; and sisters, Nannie Taylor, Sally Arch, and Maggie Armachain.

In addition to his parents, Elisha was preceded in death by brothers, Mason Taylor and Marvin Taylor; sister, Rose Salazar; and nephew, Charles John Hornbuckle.

Funeral services will be held on Tuesday, Feb. 2 at 2pm at Long House Funeral Home with Tom Belt officiating.   There will be no other services to follow.

In lieu of flowers, the family requests donations to the American Heart Association or to personally get outdoors and spend some time in nature on the mountain remembering Elisha gathering plants for food and medicine doing what he loved.