By AMBLE SMOKER
ONE FEATHER STAFF
Merritt Grace Van Meter, a Creek and Cherokee professional pole vault athlete currently training for the 2016 Olympics in Rio de Janeiro, visited with the 4th and 5th grade members of the Cherokee Youth Center over the course of several weeks to provide mentorship and promote healthy decision making skills.
"Sport is a great platform to help kids take up dreams for themselves," said Van Meter.  "As an athlete, I didn't want to be the best athlete I could be simply for the sake of doing it, I wanted to become the best version of myself; and in doing that, I wanted to encourage kids who were in my shoes to do the same for themselves."
Van Meter takes time from her busy training schedule to drive from Knoxville on Wednesdays to meet and interact with the kids.  At a roundtable discussion, she presented ideas on the importance of providing positive social environments to help each other reach their goals.  She also discussed the importance of realizing and steps to reach personal goals.
Van Meter is a recent graduate from Tulane University where she was able to overcome a debilitating knee injury and an autoimmune disorder diagnosis which kept her out of action early in her collegiate career.   At one point, her career was declared officially over due to the severity and complications associated with the injury.  She became so physically sick as a result of the autoimmune reaction that the focus shifted from not being able to compete again to simply hoping she would be able to feel normal again and walk without a limp.
However, after four reconstructive knee surgeries and a round of chemo-level amino suppressants to fight the autoimmune disorder, she was able to storm back faster and stronger to break school records, win the American Athletic Conference title, and make All-American three seasons in a row while at Tulane.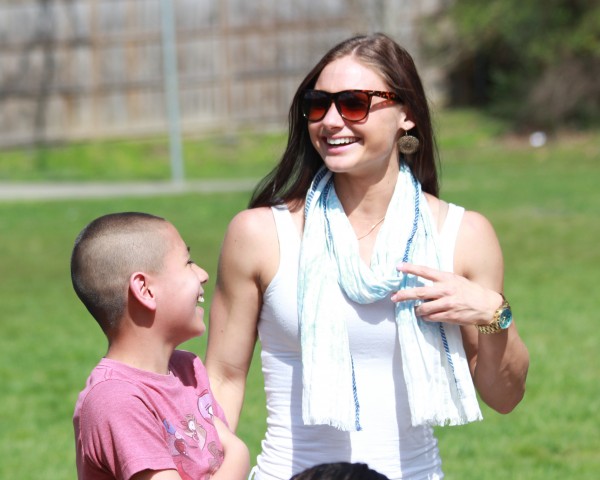 Van Meter has a rich family tradition and a strong pedigree as a Native American athlete.  Her grandfather, a member of the Cherokee Nation, moved to the Louisiana from Oklahoma on a football scholarship.  Her father also played at Tulane in similar fashion.
Before arriving at Tulane, she set a new composite state-meet record and was named MVP at the Louisiana High School State Track Meet.  She was also awarded All-District, All-Metro, All-State, and All-American; Sugar Bowl Amateur Athlete of May 2010; and Gatorade 2010 Track & Field Athlete of the year.
"I learned, from sports, the way to come back from a devastating life event is to attack it in four ways; physical, spiritual, mental, and emotional.  It's important to find that balance, find my center and use it to move forward in a positive direction," explained Van Meter.
"Decisions that you make become your lifestyle.  If you want to have a healthy lifestyle, learn to make healthy decisions.  If you want to have a successful life, learn to make decisions toward success. Practice the skills you need to live the life you want to lead."