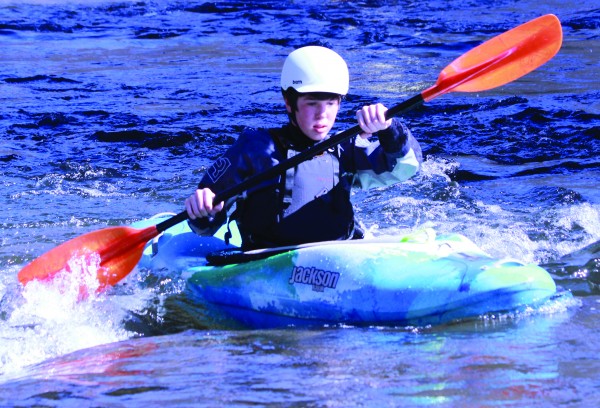 Seven Cherokee youth complete Kayak Workshop
By AMBLE SMOKER
ONE FEATHER STAFF
Seven youth members from the Cherokee community closed out a five-week Kayak Workshop Series by kayaking down the Oconaluftee River from the Blue Ridge Parkway Bridge to the Cherokee Island Park on Monday, March 30.
"I think this is a wonderful event and the first of its kind, to my knowledge," said Joey Owle, Program Coordinator with Cherokee Choices.  "I think this is going to open up people's eyes to other activities on the (Qualla) Boundary.  The most rewarding part of this is seeing the triumphs of these kids going down the river and succeeding.
Cherokee Choices, the Nantahala Outdoor Company, and the Nantahala Racing Club partnered together for the five-week Kayak Workshop Series where children from the Cherokee community were introduced to the sport.
Prior to setting sail down the Oconaluftee on Monday, the participants went through five indoor kayaking basic skills workshops at the pool inside the Cherokee Life Center.  These skills included: wet-exit, how to maneuver the kayak, how to prepare for river obstacles, and how to row.
"I hope the kids continue on with kayaking and encourage more recreational activity on our rivers here," Owle continued.  "I would like to see more kids on boats and learning to navigate the river.  We've had one participant who's been kayaking for about a year and another who's gone down the river once.  We had five fresh participants where this was their first exposure to kayaking, and it's wonderful to be here for that and to be the opportunity that brought them to kayaking."
"We wanted to have this activity available to our youth as an alternative to your conventional school sports and encourage more outdoor participation.  We live in one of the most beautiful and pristine areas in western North Carolina, and I hope this opportunity opens people's eyes up to how important our resources are and to preserve them."
To view or purchase photos from this event, visit: https://onefeather.smugmug.com/SPORTS/Cherokee-Kayak-Workshop-March/