Ruth Armachain Caro, 80, of the Big Cove Community of Cherokee, NC, passed into the arms of Jesus on Thursday April 25, 2013.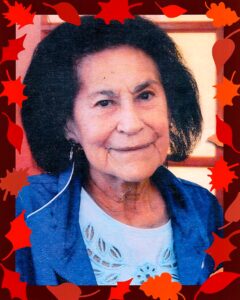 She was a hairdresser in Norfolk Virginia for 40 years before returning home to Cherokee.  She was a Foster Grandparent at the Dora Reed Child Care Center in Cherokee for 20 years.  Ruth participated in the Senior Games and won gold medals in several categories.  She enjoyed bowling and square dancing with others at Tsali Manor.  And, she was an avid fisherman until her recent illness.  Ruth was a member of Sequoyah Baptist Church.
She was preceded in death by her parents Louis and Dora Hornbuckle Armachain; three brothers, William "Bill" Armachain, Calvin Armachain and Wayne Armachain; one sister Gladys Armachain.
She is survived by son Joseph Caro and wife Michelle of Norfolk, Va.; daughter, Deborah Caro-Denig and husband Justin of Bryson City; father of the children, Joseph Caro; four grandchildren, Kristina, Joseph and Michael Caro of Norfolk, Va. and Dakota Caro of Bryson City; sisters, Emma "Granny" Walkingstick of Cherokee, Jean Armachain Sill of Norfolk, Va., and Joy Smith and husband John W. Smith of Cherokee; two great-grandchildren, Taylor Caro and Marcellia Sartoro.
A visitation was held at the Bethabara Baptist Church on Sunday, April 28 with a funeral following the next day on Monday, April 29, 2013 at 2pm.  The officiates will be Brother George Welch, Pastor Dan Conseen, Pastor Marty Pressley and Pastor Eddie Sherrill.  A private graveside service will follow the funeral in the Sequoyah Cemetery in the Big Cove Community with Jimmy Craig, James Welch, Bobbie Stamper, Davey Stamper, John Cameron George and Doober George acting as Pall Bearers.
Long House Funeral Home is assisting the family in the service arrangements.