By SARAH MCCLELLAN-WELCH
EBCI COOPERATIVE EXTENSION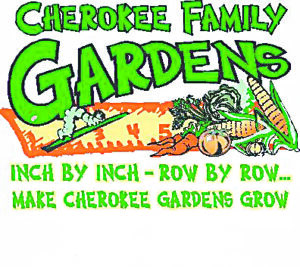 Principal Chief Michell Hicks began the Cherokee Family Garden Program in 2004 to encourage families to raise home gardens and practice Cherokee agricultural traditions. Over the past 10 years, a total of 5,550 Garden Kits have been given to Cherokee families by Chief Hicks. The project started in 2004 with 300 garden starter kits and has grown to 750 garden kits in 2013. The Garden Kits provide the means for families to raise a small, basic vegetable garden.
Raising a garden is a healthy activity and those who have participated say that growing a garden increases their physical activity and increases the amount of fruits and vegetables their family eats. Families who sit down to a family dinner five nights a week have a better quality of family relationships according to research from Columbia University. Eating regular family meals actually helps kids grow-up healthy and drug-free.
The kits contain recipes, gardening information, 10 different kinds of seeds, and this year, a seedless Red Reliance grape plant. Since 2006, all of the seeds in the kits have been heirloom types, meaning that part of the harvest can be saved for the next year's garden seed.  
The Garden Kits have helped increase the number of home gardens being grown in Cherokee by more than 60 percent. So, everyone's efforts have made a difference. Food from these kits feeds Cherokee families and extra produce has been donated to local food banks.
More than 500 volunteers have helped with the Garden Kit Events over the years.
"We could not reach so many Cherokee families with out the community volunteers who help every year and make the events so much fun!" says Sarah McClellan-Welch, EBCI Agriculture Agent who coordinates the project.
Many Tribal Programs have helped over the years from volunteering at the events to helping package trees. Kevin Welch, Coordinator for the Center for Cherokee Plants, has worked hard "doing the heavy lifting behind the scenes" every year transporting all of the plants, seeds and supplies to the events. 
Garden Kits are distributed during four events every spring in Cherokee County, Snowbird, at Tsali Manor and in Cherokee. The kits are for EBCI families and there is a limited supply. The dates for this year's events are:
Snowbird Community, Tuesday, April 16 at 5pm at the Jacob Cornsilk Center
Tsali Manor (EBCI elders only), Wednesday, April 17 at 11am
Cherokee County, Wednesday, April 17 at 5pm at the Cherokee County Community Center
Yellowhill Community outdoor gym, Saturday, April 20 at 11am (this is a change from the original date of Thursday, April 18)