William Richard Freeman, known most of his life as "Crazy Richard", born February 11th, 1947, in Newport News, Virginia, passed away peacefully at home, Monday, April 11th, 2011 in Waynesville, North Carolina.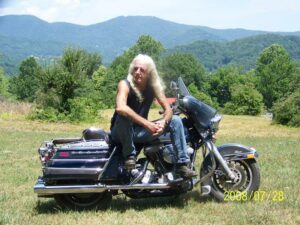 He was the eldest son of the late William David Freeman,and is survived by his loving Mother, Lois Hooper Freeman, his "better half" and mate, Terri Stiles. Two  daughters, Amber Freeman Thompson, and Hyle Bathurst, grandchildren, Hannah and Reese, a brother,Marvin Freeman, a sister, Debra Freeman, and many nieces and nephews, aunts and uncles, and cousins.
     A "Celebration of his Life", will take place May 14, 12:00 at Water Rock Knob on the Blue Ridge Parkway in Waynesville, NC. All friends and family are welcome.
     Richard grew up in Poquoson, Va until 1977 when he moved to Western North Carolina.
     He was a natural athlete and set many state and national records in track that has stood for many years.  His profession was in arts. So many carry his work whether it be in jewelry, wood, or in ink.
He was one of the founders of the Independent Bikers Association in Western NC, and to all his brothers and sisters, "See you at the BIG Rally. I begin the plans…."