Special to the One Feather
The exhibition "Behind the Mask: Cherokee Mask Makers and their Legacy" aims to reinforce the significance of Cherokee masks, their history and use, as well as their meaning and significance. The exhibition takes a historical approach to focus on early 20th century mask makers, with particular emphasis on Will West Long and three other Big Cove mask makers: Long's friend and fellow student, Deliskie Climbingbear; Long's older brother Lawyer Calhoun; and Allen Long, Will West Long's son.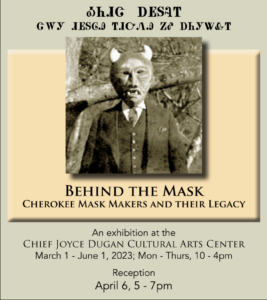 Without a doubt, Will West Long is one of the most significant figures in Cherokee history. Curator Anna Fariello claims, "Much of what we know about traditional culture, including what we know about masks, we know from Long."
An authority on language, ceremony, and medicine, he dedicated his life to preserving and sharing his culture. Ethnologist William Fenton, writing about his meeting with Long wrote, "His name is associated with the work of every field ethnologist who ventured into Big Cove from 1887 until 1947, when he passed away."
The exhibition is made up of thirteen text panels with photographs of Big Cove mask makers and their masks. One panel identifies the oldest known existing Cherokee masks and a lost mask by Charley Lossie, Long's older cousin who taught him mask making. Three audio recordings—songs sung by Long and Climbingbear—run on a loop throughout the exhibit. Also on view is a short film made in 1927, no doubt the earliest film of Cherokee dance ever produced. The silent film includes demonstrations of dances that took place in front of the Will West Long's home in Big Cove. Four masked dancers arrive draped in blankets and sheets and are joined by women wearing terrapin shell rattles and holding feather wands. Long is seen with the dancers.
Funded by the Institute of Museum and Library Services, one goal of the project is to identify masks in public collections so that they may be shared with the Cherokee community. Masks were located at the Denver Museum, Gilcrease Museum, National Museum of Natural History, National Museum of the American Indian, and Pennsylvania Museum. Many of these masks are reproduced on the exhibit panels. In addition to local sources, photographs, documents, and recordings were found at the American Folklife Center, American Philosophical Society, Great Smoky Mountains National Park Archives, and National Anthropological Archives. All in all, the project acquired 20 photographs of masks by Will West Long and almost 50 of other Cherokee masks located in various parts of the country, as well as 25 previously unknown photographs of Big Cove artisans. At the close of this project, these will be added to the archives of the Museum of the Cherokee Indian. Central Schools Community Affairs Division and EBCI Destination Marketing were primary partners in the project.
The mask exhibit and accompanying events will be held at the Chief Joyce Dugan Cultural Arts Center, located on the campus of the Cherokee Central Schools. The project funded a number of in-school projects, including a two-week workshop in which carving teacher and mask maker Josh Adams taught mask making in the style of Will West Long to students and former students. These masks are included in the exhibition. Students in Lori Reed's Cultural Arts class participated in a clay mask workshop led by Laura Walkingstick. The workshops aimed to inspire future generations to pursue the traditional arts of their past. Later in the semester, students will have an opportunity to participate in two "Days of Culture," where they will learn about a variety of traditional crafts from eight EBCI craft makers.
A reception for the exhibition will be held on Thursday, April 6 from 5 p.m. to 7 p.m. To view the exhibition during school hours—Monday through Thursday from 10 a.m. until 4 p.m.  – visitors enter through the Middle School and must show a current ID. The exhibit remains open until June 1.