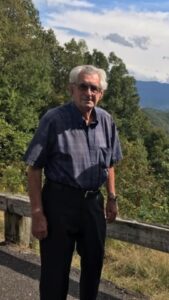 Thomas Nelson "Pop" Treadway, 84, of Bryson City passed away Saturday, March 18, 2023. A native of Swain County, he was the son of the late James Nelson and Julia Lambert Treadway and husband of the late Ruth Treadway.
He was a member of Spruce Grove Baptist Church.
He was preceded in death by his brothers and sisters, Frank, Ann, Fred, and Jean.
He is survived by his brother, Ted Henry Treadway; son, Scott Cody (Vida); grandchildren, Thomas and Taylor Cody, Isabella Sellers (Will); great grandchild, Dwayne Sellers; and special son, Larry Roland.
Funeral services will be held at 2 p.m. Wednesday, March 22 in the chapel of Crisp Funeral Home. Revs. Roger Roland and Sam McMahan will officiate with burial in Swain Memorial Park.
The family will receive friends from 6 p.m. to 8 p.m. Tuesday at the funeral home.
In lieu of flowers, donations may be made to your favorite charity.
The family would like to give a special thanks to the staff of Tsali Care Center.