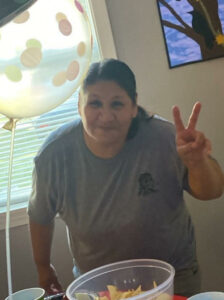 Sherry Lynn (Calhoun) Crowe, age 53, passed away unexpectedly at her residence on Thursday, March 16, 2023.
Sherry is survived by her husband, Edward "Eddie" Crowe, Jr.; children, Hannah Calhoun-Raby (John), Amber Crowe, and Josh Crowe (Jerilyn); six grandchildren, Darius Saunooke, Jamy Lynn Teesateskie, Kyler Crowe, Aubrey Crowe, Maxum and Bennett; brothers, William Russell Locust III, Tim Swayney, John Walkingeagle; sister, Trish Calhoun; aunt, Candy Ross (Mark); great uncle, Jack (Ruth) Lossiah; great-great aunt, Annie W. French; paternal aunts, Jennifer Calhoun and Bernice (Ric) Bottchenbaugh; paternal uncles, Morgan (Clara), Danny (Leitha) Calhoun, Hayes Calhoun, and James "Jay" Calhoun; niece, Vikki Calhoun; nephews, Joe Calhoun and Billy Calhoun; father-in-law, Eddie Crowe Sr.; special nephews, Mason York and Corey Liam York; and special friend, Anita Thompson.
She is preceded in death by her mother, Gwendolyn Faye Ross; son, William Ryan Crowe; brother, Clint Calhoun; sister, Jody Walkingeagle; maternal grandparents, Leroy and Martha Ross; maternal great grandparents, John and Charlotte Lossiah; paternal grandparents, Walker and Evelyn (Hornbuckle) Calhoun; aunt, Florence Lewis; uncle, Darrell Ross; maternal great aunts, Dorothy Thompson, Maggie Lossiah, and Jane Taylor; maternal uncles, Willard Lossiah, Woodrow Lossiah, and Noah Lossiah; paternal aunts, Maggie Bowman and Jodi Walkingeagle; and paternal uncles, Lowell "PeeWee" Calhoun and Andrew Calhoun.
A visitation will be held on Monday, March 20 in the chapel of Long House Funeral Home beginning at 12 p.m. until 2 p.m. A formal funeral service will begin at 2 p.m. with Scott Chekelelee officiating. Burial will be in the Lossiah Family Cemetery. Pallbearers will be among Family and Friends.
Long House Funeral Home assisted the family with final arrangements.