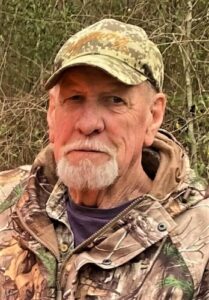 Avery Rufus Brown, age 76, of Tuckesegee, N.C., passed away on Monday. March 13, 2023. He was born on Feb. 8, 1947, in Jackson County, to the late Hexter and Mattie Queen Brown.
Avery, aka GOAT, was born and raised in the Little Canada community where he was a lifelong resident. He was an avid outdoorsman and a member of Sols Creek Baptist Church.
He will be dearly missed by his loving wife of 50 years, Nancy Mathis Brown; sons, Tim (Nancy) Brown, Steve (Amy) Brown; brother, Truman (Fay) Brown, Thurmanell (Darlene) Brown; sister, Mozell (Coy) Ashe; grandchildren, Cheyanna (Clint) Cochran, Hope (Landon) Brendle, Emily (Blake) Brown, Will Brown, Timiyah (Elijah) Wachacha, Avery Brown, Brittany (Matt) Hampton; five great-grandchildren; and numerous nieces and nephews.
The family will receive friends from 1 p.m. to 2 p.m. on Sunday, March 19 at Sols Creek Baptist Church, Tuckasegee, N.C., with a Memorial Service at 2 p.m. Revs. Steve Webb and Doug Mathis will be officiating.
In lieu of flowers, please make a donation in Avery's honor to: Summit Charter School of Cashiers Foundation, Attn: Melissa Hudson P.O. Box 2493 Cashiers, NC 28717,
Cremation services have been entrusted to Appalachian Funeral Services, Sylva NC. Online registry: https://www.appalachianfuneralservices.com/