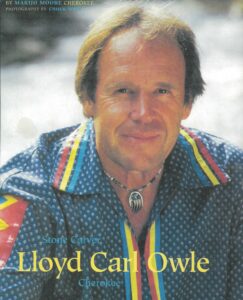 Lloyd Carl Owle, 80, of the Birdtown Community passed peacefully to his Heavenly Father on Saturday March 11, 2023. A native of Cherokee, he was the son of the late Lloyd Solomon Owle and Betty Bradley Owle. In addition to his parents, he was also preceded in death by his wife of 40 years, Linda Beck Owle, and siblings, Jesse Dugan, Robert Owle, Annette Fish, Ruby Owle Crowe, and Henry Owle.
Lloyd was of the Baptist Faith. Lloyd spent many years of service as a member of the Eastern Band of Cherokee Indian Tribal Council, as well as working for the Boys Club, Save The Children Federation, and Unity Youth Regional Treatment Center. He was also a renowned Stone Carver.
He is survived by one son, Greg Owle and wife Michelle of Cherokee; girlfriend, Catherine Lambert of Cherokee; grandchildren, Brandon Owle and wife Kayla, and Trenton Owle and wife Bri both of Cherokee; great grandchildren, Remington, Jaxton, Lily, and Luke Owle all of Cherokee; and siblings, Frank Bradley, Dewey Owle, Freeman Owle, Catherine Owle, and Peggy Wolfe.
Funeral Services will be held 2 p.m. Thursday, March 16 at Crisp Funeral Home Chapel. Revs. Dan Conseen, David Burch, and Tommy Ashe will officiate with burial at Owle Cemetery.
The family will receive friends from 12 p.m. until 2 p.m. Thursday at the Funeral Home.
Pallbearers will be Joey, Donnie, Cody, Boyd, Jim, Brian Owle, and Ethan Crowe.