By SCOTT MCKIE B.P.
One Feather Asst. Editor
For Tara Saunooke Alexander and her daughter, Katie Alexander, both members of the Eastern Band of Cherokee Indians, sports are a family affair.  Tara, a standout basketball player at AC Reynolds and Clemson University, was recently inducted into the WNC Athletic Hall of Fame.  Katie just finished four stellar years playing volleyball at Asheville Christian and received a national award.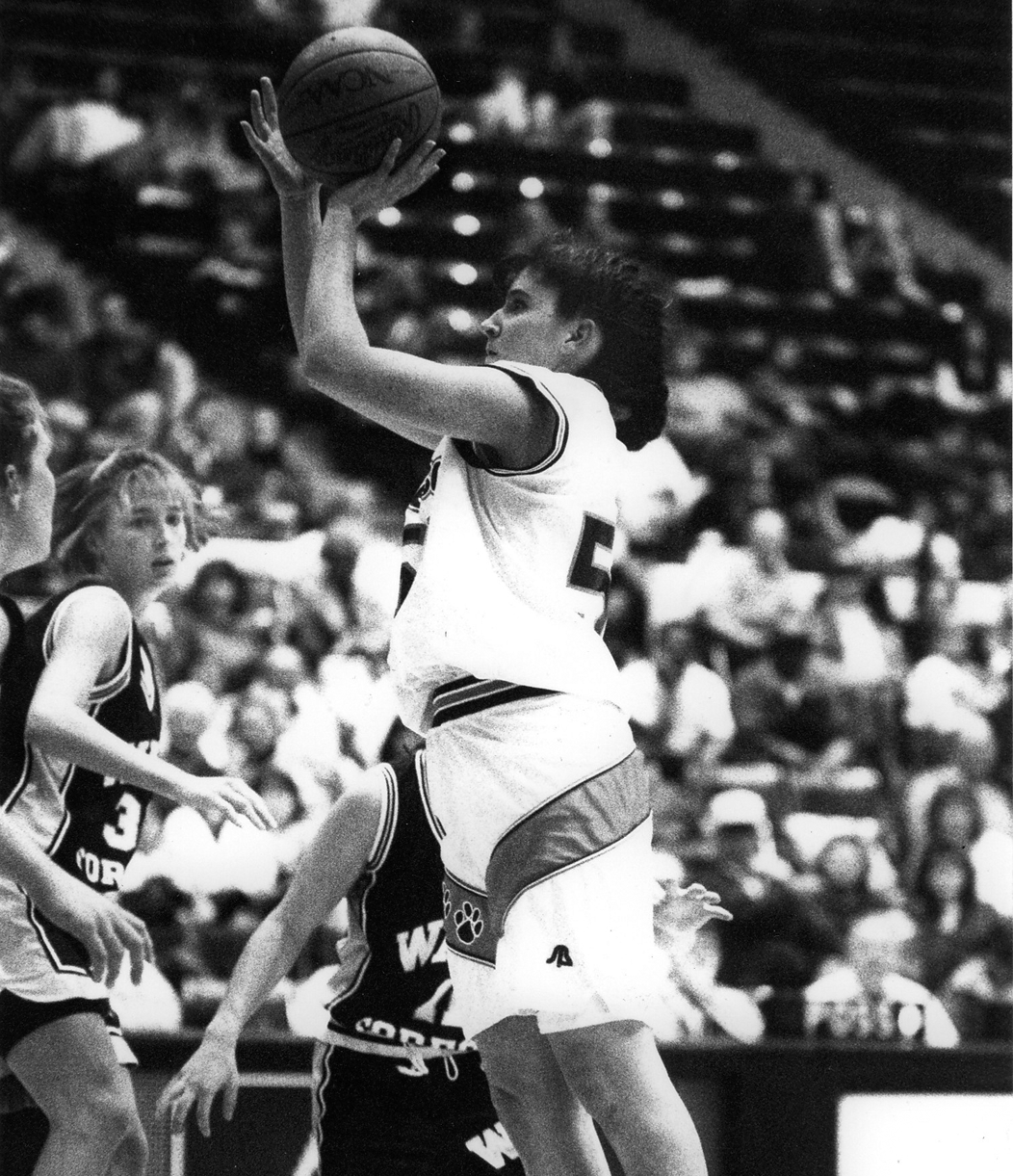 "It was hard for me to believe that playing sports that I love and enjoyed pouring time into would lead to such an honor and recognition," Tara said of that honor.  "Without even knowing it, 44 years ago, a small 5-year-old girl, in the old Fairview gym began playing a sport that would create unforgettable memories and open many doors for my future."
Born and raised in Fairview, Tara graduated from AC Reynolds High School in 1991 and went on to a stellar career playing basketball at Clemson University (1991-95) where she graduated in 1996.  She was named to the AC Reynolds Athletic Hall of Fame and her basketball jersey was also retired.
"From the time I walked through the doors at Little John Coliseum to the time I took my last shot in Texas, playing for the Lady Tigers gave me a whole new aspect on what it takes to play at such a high level of competition," she noted.  "Basketball always came natural to me, but as a freshman, earning a starting position on a Division 1 level was one of my hardest, but also one of my highest  accomplishments."
"Being 5'7", people always ask me how did you compete on the ACC (Atlantic Coast Conference) level? I respond by saying the Lord blessed me with the ability to shoot a basketball and boy did I shoot it. I shot it so much that my coach gave me the nickname 'Trigger'."
Coming out of the gates in college, her shooting lit it up.  Tara finished her freshman year leading the ACC in 3-point percentage (47 percent) and 3-point field goals made (58 of 113).  She was named first team ACC All-Freshman team that year.  She went on to lead the ACC in 3-point field goals made each of her four years at Clemson and she led the conference in 3-point percentage again in her sophomore and senior years.
"I was blessed to play at Clemson University where athletics is of utmost importance. We traveled and played in venues from Alaska, Las Vegas, New York, Texas, and every ACC school in conference.  Up to the time I arrived at Clemson, the furthest I have ever traveled was to a softball tournament held in Mississippi and had never been on a plane before. Clemson gave me the opportunity, through athletics, to visit and play in many states throughout the country. I was honored as a freshmen to be invited to Colorado Springs, Colo. to try out for the Junior Olympic Team. Along with the travel, the friendships that were made between teammates and managers hold true to this day. Those are my two favorite parts of playing collegiate basketball."
Tara is still ninth all-time in scoring for Clemson with 1,462 career points, and she is a member of the 1,400 point 200 assist Club.  She is first all-time in several shooting categories including: 3-point field goal percentage at .430 (252 of 586), 3-point field goals attempted (586), and 3-point field goals made (252).  She is second all-time in 3-point field goals per game (2.08) and third all-time in free throw percentage (.8120).  In 1995, she received the Clemson University Frank Howard Award for most outstanding female athlete.
Katie, a senior setter at Asheville Christian, was named the 2022 NCSAA (National Christian School Athletic Association) Division 2 National Player of the Year.  "I was very surprised, honored and humbled all at the same time. This year's volleyball team was an amazing group of players and friends. Our success was due to the hard work, commitment, and dedication our team poured into volleyball throughout the year. Without each and every one of them, especially Coach Torri Render, I would not have received this award."
She finished the season with 718 assists, 241 digs, and a 97 serve percentage.  Some of Katie's accomplishments include: 2022 NCSAA First Team All-American, four-time NCSAA All-State, three-time NCSAA Carolina Athletic Association Player of the Year, three-time All-Western North Carolina first team, two-time nominee for Western North Carolina Athletic Association Female Athlete of the Year, two-time NCSAA 3A State Champion, and four-time Carolina Athletic Association All-Conference.
She added, "Going 24-0 and winning the state championship was a dream come true. Over the last four years, we have put a ton of hard work into volleyball, and we have been blessed with two State Championships. Being named to the CAA All-Conference Team four years in a row, Player of the Year for the CAA the last two years, All-State the last three years, and being named to the First Team All-Western North Carolina Volleyball for the past two years, was more than I had ever expected."
As a setter, she commands the offense – a position she enjoys.  "I have been blessed to be a setter for each volleyball team I played for since I was in 4th grade and I love the challenges placed on a setter.  Running all over the court, communicating with all five other players and trying to perform the best offensive moves that will allow us to win the point, not to mention the pressure of making a legal, good set is what makes me love to play the game of volleyball. Each play is like organized chaos."
Coming from an athletic family, both Tara and Katie were raised in that environment.  Tara commented, "My mom, Shirley, who was voted into the AC Reynolds Hall of Fame, along with my dad, Mike, both played basketball on a high level and were very competitive. Needless to say, that DNA fell right on top of me. Mom and Dad coached my older sister and at the age of 4, I was drug to every gym in western North Carolina. While basketball was in season, a day did not go by that I wasn't shooting, dribbling, or being asked to leave the gym floor between timeouts and quarters, while the game was going on. Along with my school coaches at Reynolds, I was lucky enough for my dad to be able to coach me as well. Mom and dad played a pivotal role in helping with my decision on which college to attend."
Tara added a fun fact, "My dad never missed a basketball game of mine through middle school, high school, and college – approximately around 285 games in 10 years. Mom made most of them but had to miss a few because my younger brother was playing. Either way, I knew both of them had my back or were fully vested in any venture basketball brought my way."
Katie commented on her experiences growing up, "Both sides of my families were all athletes coming through school. My Dad and Mom were both accomplished athletes growing up and they take athletics very seriously. To say that my sister and I were gym rats is an understatement.  For 12 and 15 years, my Dad was an athletic director and Mom was a PE teacher, so we lived in the gym and on the fields. I mean it was every day and on weekends. They coached volleyball, basketball, softball, and soccer."
She added, "The Lord blessed me with great love for athletics and the ability and mindset to work as hard as possible at my chosen sport. We loved to practice but we were taught at a young age, when it's game time, it's game time! Now that I am older and can look back at it, I realize the support my entire family has given my sister and I and how blessed we were to learn so much about life in general, through athletics."
Like her mother, Katie credits her parents' support for helping her to success.  "From an early age, Mom and Dad taught me through athletics about what it means to be a true teammate – how a teammate needs to be dependable, honest, never quit, and willing to work to get better. My Dad used to tell my sister and I, 'Someone has to be the best, why not you?'. No matter what happened in a practice or game, Mom and Dad would always say, sometimes before a game and sometimes after, no matter what happens, your athletic accomplishments, good or bad, would, never, ever affect our love for you and your sister.  We were taught at a young age that the platform given to us through athletics by our Lord and Savior should be appreciated and used to help others."
She went on to say, "My extended Saunooke family taught me to be proud of my Cherokee heritage and always remember where you come from."
And, Tara is very proud of her daughter.  "Every sport that Katie has experienced since the age of 3 has come very naturally to her. She was blessed with a will to win and a work ethic second to none, so her father and I very seldom had to urge Katie to practice or spend time in the gym/field. We realized she was special in volleyball when, as a 7th grader, she played on our varsity volleyball team with her older sister Hannah. The following year, Katie was able to learn from Hannah, who was also a setter, and helped establish techniques and strategy to try and become the best setter possible. The following year, as a 9th grader, she was the starting setter for ACA and never looked back."
Tara went on to comment, "I cannot express the fun and excitement she brings to the volleyball court, not only as a player, but also a team leader. As her parent, it's hard to describe how proud I am, not only for her accomplishments in volleyball, but also the heart she has for all those she comes in contact with each day and the love she has for the Lord."