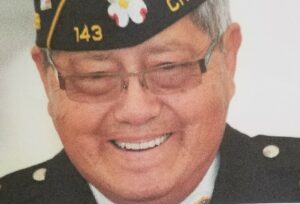 David Ledford, 72, of Cherokee, passed away Sunday, Sept. 22, 2019 at Cherokee Indian Hospital in Cherokee.  Mr. Ledford was born Nov. 18, 1946 in Cherokee. He is preceded in death by his parents, Mason and Lillian (Teesateskie) Ledford; and sisters, Velma Lossiah and Alyne Watty.
He is survived by his loving wife of 22 years, Patsy (Everhart) Ledford. He also leaves behind his children, Cynthia Ledford and Melvin Ledford, both of Cherokee. In addition are his grandchildren, Hannah Ledford and Tyler Ledford, along with a beloved nephew that was like a son to him, Jacob (Whitney)Reed. He was Pops to their daughter Ansley (Morning Glory).
He is also survived by his sisters, Rose (Skipper) Sneed, Lula Ledford, and Christine Walkingstick; his brother, Calloway (Martha) Ledford Sr.; and he also leaves behind his aunt Amy Smoker.
Ledford was an enrolled member of the Eastern Band of Cherokee Indians and a fluent speaker of the Cherokee Language. He served in the Army from May 1, 1968 to April 22, 1970. He then worked for the United States government for 33 years as a heavy equipment operator on the Blue Ridge Parkway. Mr. Ledford was a proud member of the Steve Youngdeer Post 143 of the American Legion.
Visitation will be at Long House Funeral Home on Tuesday, Sept. 24 from 5 p.m. to 9 p.m.
Mr. Ledford will be escorted from Long House Funeral Home on Wednesday, Sept. 25 by the Brothers in the Wind at 9:30 a.m. to Shoal Creek Baptist Church, 184 Shoal Creek Church Loop, Whittier, NC 28789.
Funeral Services will be conducted at Shoal Creek Baptist Church on Wednesday, Sept. 25 at 11 a.m. with Military Funeral Honors to follow at Blythe Cemetery, Cherokee.
Long House Funeral Home assisted with arrangements.