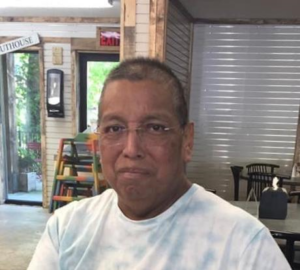 Mr. Jonathan L. French was born on April 21, 1964, in Washington, DC, and passed away on Sept. 16, 2019.  He was born to Susannah Roach, and raised by Dinah C. French, his grandmother.  Both were his moms, and his dad was Howard Roach (deceased).  Because of the closeness among family and how they were raised, Mr. French's siblings included his biological brother and sisters as well as aunts, uncles, and cousins.  These include: Eugene French Sr. (brother), Jennifer Wahkinney (sister), Elizabeth Fowler (sister), Felicia Roach (sister), Dale French (uncle, deceased), Nick French (uncle, deceased), Maude Paul (aunt, deceased), Darlene Defoe (aunt), Ann French (aunt), Dawna Paul (cousin), Margaret Welch (cousin), Eddie Paul (cousin), and Dale French Jr. (cousin).  Additional survivors include his uncle Wilbur Paul, aunt Nora French, sister-in-law Beverly French, brother-in-law Charles Welch, and numerous nieces and nephews along with extended family.
Mr. French spent much of his life in Cherokee, although he spent time during his childhood years in Maryland and Oklahoma, and lived and worked in Maryland for a two-year period as a young man. He attended Haskell University in Lawrence, Kan. and returned to Cherokee where he worked in local shops where he expanded his knowledge and appreciation of for Native arts. Mr. French was also a gifted beadworker.  He sold many pieces through various shops and markets and was sought after to bead special request items.  Mr. French went on to work for the Barclay Factory, arising to a departmental Assistant Manager position before it closed.  For the past nearly 15 years, Mr. French worked for the Harrah's Casino Resort in Cherokee in the retail department as an arts and crafts buyer and salesperson. Jonathan was a long-term member of Yellowhill Baptist Church in Cherokee, North Carolina.  also loved to cook, trying new recipes no matter how complex, which he shared with family and friends.
There are many who treasure their friendship with Jonathan. From childhood friends to co-workers and customers to those he met during his cancer journey, many expressed their love for him, his humor, his kindness, and gratefulness that he is a part of their lives.  His thoughtfulness in putting others first is a hallmark of character, which he carried through even to his funeral service planning.  He is an inspiration and will be greatly missed. But, he knew where he is going and we rejoice that we will see him again in heaven.
Funeral services were held on Wednesday, Sept. 18 at Acquoni Baptist Church.  Internment was at the French Family Cemetery.  Pallbearers were:  Chelis Santoyo, Jacob French, Johi Griffin, Steven Lambert, Alan "Bundy" Rogers, and Michael Thompson.