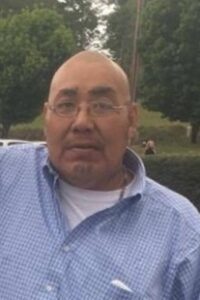 Burton "Frog" Littlejohn passed away on Aug. 28, 2019.  He was born in Swain County on June 30, 1970 to the late Jim and Mollie Littlejohn.  
Mr. Littlejohn is survived by a son, David James Littlejohn; three sisters, Mary Jane Smith (Alan), Nellie Littlejohn, and Charlotte Littlejohn; one brother, David Taylor, and numerous nieces and nephews that he loved very much.  
In addition to his parents, he was preceded in death by two sisters, Elsie Wolf and Molly Littlejohn and three brothers Mike, Leonard, and Jim Littlejohn.  
A funeral service was held on Saturday, Aug. 31 at Acquoni Baptist Chapel in Cherokee with Reverend Patrick O'Dell and Reverend Jim Parks officiating.  Frog's nephews, Travis, Cricket, June, Dee Dee, Mikey, David Alexander, 'lil Smurfy, and Taylor served as pall bearers.  Burial followed in the Littlejohn Cemetery.