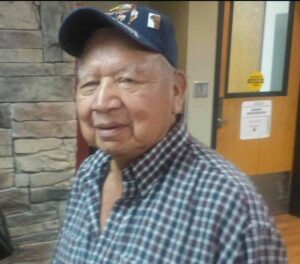 Stanley Tooni Sr., 87, of the Wolfetown Community, went home to be with the Lord Wednesday, Jan. 30, 2019. A native of Cherokee, he was the son of the late Larch and Agnes George Tooni. In addition to his parents, he was also preceded in death by his first wife, Dorothy; two sons, Ammons and John David Tooni; one brother, Ike Tooni; two sisters, Rachael Reed, and Annie Driver; and one step-daughter, Bernice.
He is survived by his wife, Dianne Garner Tooni; two sons, Stan Tooni Jr., and Larch Tooni and wife Carolyn; one daughter, Agnes Tooni and companion Rick all of Cherokee; two step-daughters, Brenda of Alabama, and Rebecca of Michigan; two step-sons, Tracy, and Andy both of Georgia; one daughter-in-law, Alyne Tooni; 11 grandchildren; seven great grandchildren; two sisters, Dinah George, and Eva Reed both of Cherokee; and several nieces and nephews.
Funeral Services will be held 2 p.m. Friday, Feb. 1 at Rock Springs Baptist Church. Revs. Greg Morgan, Dan Conseen, and Keith Carson will officiate with burial at Reed Family Cemetery.
The family will receive friends from 5 p.m. until 11 p.m. Thursday at the Church.
Grandsons will serve as pallbearers.
All singers are welcome.
Special Flute music will be played at the graveside by his grandson Matthew.