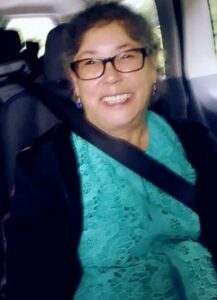 Carol Ann Bottchenbaugh Teesatuskie, 62, of the Big Cove Community in Cherokee, passed away Saturday, Jan. 26, 2019.
She is survived by her mother, Helen Wanetta Bottchenbaugh; one daughter, Misty Teesatuskie Callaway and husband Robert Callaway of Cherokee; one son, Richard James Teesatuskie of Cherokee; grandchildren, Gabrielle Teesatuskie (Gabby), Shanali Ann Teesatuskie Taylor (James Taylor), No-la Da-na-li Teesatuskie, Kaos Gsu-da-tsi Teesatuskie, u-we-na-i Kain Teesatuskie, and Logan Ryyd Callaway; great grandchildren, Nickyle Reuben David Teesatuskie and Avaleena Ann Teesatuskie Taylor; brothers, Harold Bottchenbaugh and children, Rick Bottchenbaugh (wife Bernice) and children; one sister, Wanetta Sue Davis; also survived by Glen and Jessica Davis, Vinny Davis (wife Bree) and Benny Davis, Austin Davis (wife Erica) and Nixon Davis, Karli Sue Davis, Kaydince and Xavi Davis.
Carol was preceded in death by her father, Harold James Bottchenbaugh.
Visitation will be held on Thursday, Jan. 31 from 1 p.m. until 2 p.m. at the Long House Funeral Home with services to follow at 2 pm.  Pastor James "Bo" Parris will officiate.  Burial will follow at the Helen Bottchenbaugh Cemetery in the Big Cove Community.  Pallbearers will be among family and friends.