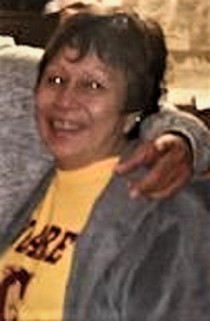 Carlotta Linette Crowe, 58, of Cherokee, passed away Tuesday, Jan. 22, 2019 at her residence. 
She is survived by her children, Adam Chris Lambert, Christian Celine Lambert, and Bobby Allen Crowe; her mother, Edith Crowe; grandchildren, Bumpy, Dac, Iyv, MJ, Mykey, Millz, and Ko-ga; Brother Jeff Crowe (Reggie Crowe); sister, Mag Teesateskie (Perry); and also Geraldine Thomson (Vicki). 
Carlotta was preceded in death by her father, Allen Boyd Crowe; one daughter, Caretta Denise Lambert; one son, Michael Edward Lambert; and one sister, Christine (Mote) Crowe. 
Funeral services will be held on Saturday, Jan. 26 at 11 a.m. at the Acquoni Baptist Church.  Revs. James "Bo" Parris and Jim Park will officiate.  Burial will follow at the Sneed Family Holly Bush Cemetery.  Pallbearers will be Nick Bushyhead, Taylor Teesateskie, Ike Teesateskie, Joshua Lossiah, Dewayne Lossiah, and Ed Thompson.
Long House Funeral Home assisted the Crowe family.