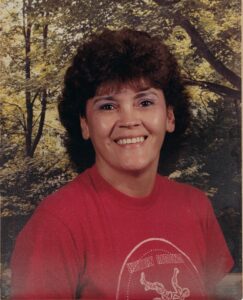 Mary Lucille Smith McCoy, 78, of the Yellowhill community, went home to be with the Lord on Jan. 15, 2019.
She was the daughter of the late Russell Samuel Smith and the late Elizabeth French Smith.  In addition to her parents, Mary is preceded in death by her brothers, Manuel French and Sam Smith; her sister, Dyxye Parker, and a nephew, Joey Parker.
Mary was a unique person who always spoke her mind and told you exactly what she thought.
She was a very multi- talented person. She could sing, write songs, play multiple instruments, and could square dance with the best of them.
Mary started learning to play the guitar and piano from her mother at a very young age and eventually taught herself to play both instruments strictly by ear. She could hear a song and sit down and within a few minutes she would be able to play it.
She was on her mother's square dance team growing up, and, later in life, she started her own square dance team where she was the caller. Mary brought her children up in Big Cove Baptist Church where they would often sing specials as a family.
Among her biggest honors was being named Senior Miss Cherokee in 2003.
She is survived by three daughters, Lisa Penick (Charles), Deidra Fowler, and Lizzie Bernal (German); a son, Richard "Rick" McCoy (Lori); a brother, Kenneth "Feet" Smith (Nancy); two sisters, Katherine Smith and Maxine Smith; a sister-in-law, Joyce Smith; eight grandchildren, Amanda (Matthew), Sam (Samantha), Malaciah, Rachel (John Cam), Colby (Justice), Omar, Sidnie, and Eli; 11 great grandchildren, Desmond, Levi, Wyatt, Jaden, Evelyn, Gracelyn, Marvin, Mattie, Yajaira, HartLeigh, and Myles; several nieces and nephews and other extended family; and her dog, "Little Boy".
Visitation will be held on Friday, Jan. 18 beginning at 5 p.m. at the Big Cove Baptist Church where the body will remain until the hour of service on Saturday, Jan. 19 at 2 p.m.  Pastors James "Bo" Parris and Dan Conseen will officiate.  Burial will follow at the Lizzie Smith Family Cemetery.  Pallbearers will be Sam Wolfe, Charles Penick, Colby Yanez, German Bernal, Jackson Wolfe, Malaciah Taylor, Omar Yanez, and John Cameron George.  Honorary pallbearers will be Dezmond Shelton, Levi Shelton, Wyatt Moore, and Eli McCoy.
Long House Funeral Home is assisting the McCoy family.