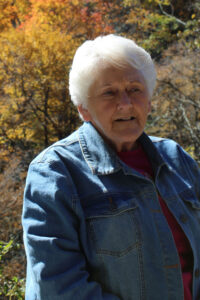 Nell Beck Crowe, 73, of Cherokee, left peacefully to be with the Lord Jan. 9, 2019. She was a proud member of the Old Antioch Missionary Baptist Church, "Where everybody is somebody and Jesus Christ is Lord." 
She served many years with her loving husband Gilbert Crowe as a Deacon's wife, Church Clerk, and Sunday School Teacher. She loved her Church family very deeply. Nell sold Avon for the past 45 years. She always had a smile on her face and never met a stranger. 
Nell was the daughter of the late Tilson and Bessie Bradley Beck. She joined her parents; late husband, Gilbert Crowe; brothers, Jim and Bob Beck; and sisters Patsy Lambert and Bernice Fortner in Heaven.
She leaves behind son, Shawn (wife Sebrina); daughter, Robin (husband Paul); daughter, Susie (husband David); son, Gilbert (wife Becky); daughter, Ashley (husband Taylor); grandchildren, Matthew, Jennifer, Kassie, Jeremy, Seth, Emma " Sweet Pea", Taelynn, Bessie, Natalie, Ryan, and Madilyn Mae Grace; and great grandchildren, Jeron and Addie. Nell is also survived by her sisters, Betty Lambert of Cherokee, Zena Lawhon of Cherokee, and Amanda Lee Bevis from Melbourne, Fla.;. special niece, Beth Beck; and special sister-in-law, Charlotte "Woochie" George.
Nell made an impact on the Cherokee Community and will be greatly missed. She loved everyone she met.
Funeral Services will be held at 11 a.m. on Friday, Jan. 11 at Old Antioch Missionary Baptist Church. Revs. Danny Little, Ben Reed and Denny Crowe will officiate with burial in the Crowe Family Cemetery.
The family will receive friends from 5 p.m. until 11 p.m. Thursday at the Church.